LCAC (L) Hovercraft
The Landing Craft Air Cushion (light) (LCAC(L)) is a hovercraft used by 539 Assault Squadron Royal Marines (539 ASRM). LCACs are amphibious i.e. able to transverse both land and water and for this reason they make ideal landing and patrol craft.
LCACs can navigate across mud, bogs, marshes, swamps and other places that other vessels would find impossible. Another advantage of hovercraft is that they produce next to no wake at high speed thus making them more stealthy than traditional craft. Also, by riding on a cushion of air, they are less likely to set off mines.
539 ASRM have deployed LCACs during operations in Iraq, where they were used to patrol the marshes in the south of the country.
The Royal Marines operate 4 LCACs (L). They are are based on the 2400TD made by Griffon Hoverwork. The 2400TDs feature armoured crew compartments in the form of plating and bullet-proof windows. Retractable side panels allow the hovercraft to fit inside via C-130J, A400M and C-17 aircraft.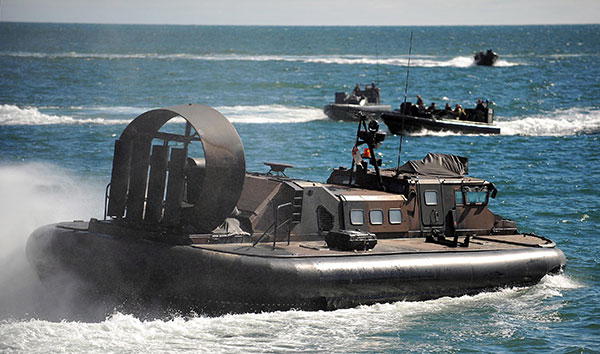 LCAC (light) (Griffon 2400TD)Hovercraft Specifications
Engine
1 x Deutz 440KW 585HP Diesel
Speed (fully laden)
34 Kts
Dimensions (Hovering)
Length : 12.7m
Width : 6.8m
Payload
16 fully-equipped Royal Marines
or 2.4 tonnes
---
Previous LCAC Model
Until late 2010, 539 ASRM used LCACs based on the Griffon 2000TD model.
LCAC (light) (Griffon 2000 TD)Hovercraft Specifications
Engine
1 x Deutz 265kw /685HP Diesel
Speed (fully laden)
34Kts
Dimensions (Hovering)
Length : 13.4m
Width : 6.1m
Payload
16 fully-equipped Royal Marines
or 2.2 tonnes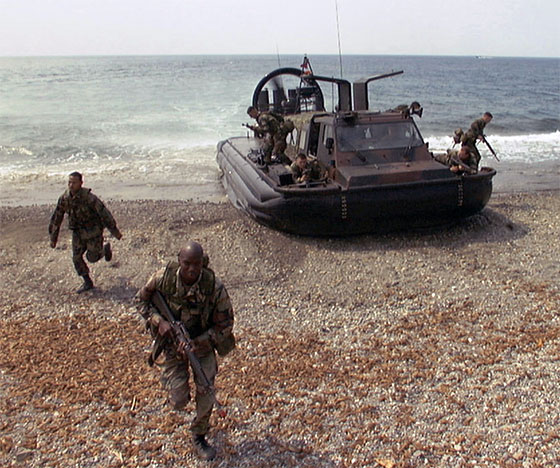 DoD photo by: CORPORAL JIMMIE PERKINS, USMC