BvS 10 Viking
To enable them to fight in all conditions, the Royal Marines have, over their history, employed various all-terrain vehicles. ATVs are ideal for moving men and supplies off water-logged beaches, through bogs, over sand dunes or across the snow-fields of Norway.
The latest ATV used by the Royal Marines is the BvS 10 Viking APC. In service since 2005, the armoured Viking has been deployed to both Iraq and Afghanistan, where its mobility over all terrain and crew protection has made it a favourite of the Marines.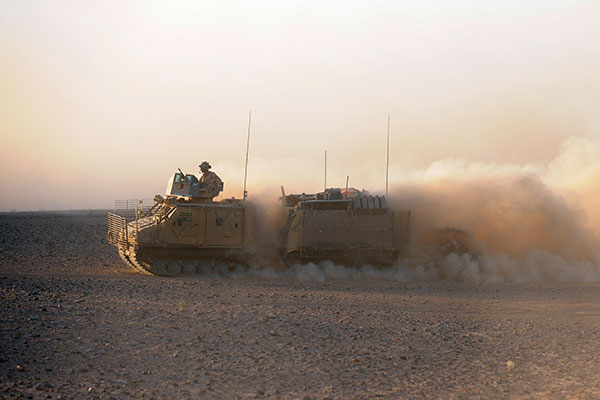 BvS 10 Vikings are comprised of 2 articulated tracked units, front and back. The front car contains the engine, commander, driver and room for a further 2 crewmen. The rear car can hold up to 8 men or a variety of stores (up to 300kg). Air conditioning comes as standard in the cabins. Protection against NBC (Nuclear Biological Chemical) hazards is an optional feature, as is a fire extinguishing system. A variant with a mortar carrier as rear car may be employed by a Royal Marines Mortar Troop (see below).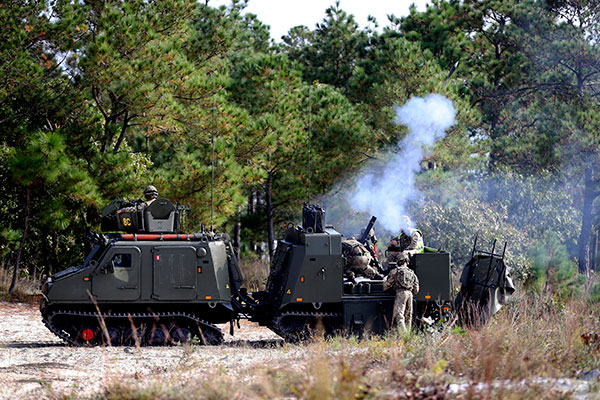 In a wartime configuration, the front cabin will be armed with a 7.62x51mm GPMG or 12.7mm HMG. A set of smoke grenade launchers are fitted to create a smoke screen if needed. Viking crews are usually armed with the SA80A2K carbine, (L22A2) a shortened version of the standard assault rifle, designed for carry within cramped compartments.
BVS 10 Viking Specifications
Engine
6 Cylinder in-line diesel


| | |
| --- | --- |
| Max Power | 202 kw (275 HP) |
| Max Torque | 950 Nm @ 1500 rpm |

Transmission
Automatic 6-speed forward / 1 reverse
Maximum speed
65 kph on road
5 kph in water
Range on roads
300km
Tracks
Moulded rubber with cord
Weight

| | |
| --- | --- |
| front car | 5000 kg |
| rear car | 3500kg |

Dimensions

| | |
| --- | --- |
| Length | 7.6 m |
| Width | 2.2 m |
| Height | 2.2 m (front car) 2.1 m (rear car) |

Operating Temps