The Pathfinder Platoon
The Pathfinder Platoon (PF Platoon), or Pathfinder Group, is a reconnaissance unit within the British Army's 16 Air Assault Brigade. Pathfinders act as the Brigade commander's eyes and ears typically operate ahead of the Brigade's front line, often deep behind enemy lines, where they perform advance force reconnaissance operations and mark out drop zones (DZ) and helicopter landing sites (HLS) for use by Brigade forces.
Pathfinders may be inserted up to a week ahead of the main force, usually in small (4-6-man) teams. The men of the pathfinder platoon are skilled in covert insertion, concealment and intelligence gathering. A patrol will include individuals qualified as medic, sniper and signaller.
Pathfinder foot patrols may be parachuted or helicoptered into position. They may also patrol in vehicles, usually heavily armed WMIK Land Rovers, Pinzgauers or more recently, MWMIK Jackals. A typical Pathfinder mounted patrol comprises of 2 vehicles with 3 men on each.
Pathfinders are highly skilled in insertion by parachute, including HALO and HAHO techniques. They use a range of parachute systems, including the BT80 multi-mission parachute combined with the High Altitude Parachutist Life Support System, which provides oxygen when jumping at high altitude.
The Pathfinder Platoon is around 60-men strong. Many of the unit's ranks come from the Parachute Regiment and from other units within 16 Air Assault Brigade. Although not technically a special forces unit, the levels of discipline and skills required of Pathfinders are close to, if not entirely comparable to, SF. Indeed, a stint in the pathfinders is often a good grounding for those wishing to serve in the Special Air Service.
On operations, the Pathfinder Group may include attachments from other brigade elements such as the Royal Engineers or Light Electronic Warfare Teams so as to carry out specialized reconnaissance.
Pathfinder Platoon Video
more Pathfinder Platoon videos
Pathfinder Weapons
For much of the 80s and 90s the Pathfinders were issued with non-standard personal weapons such as:
For a period in the 2000s, Pathfinders reverted back to standard UK issue weapons:
Browning High Power 9mm pistols were the standard sidearm for the Pathfinders for many years.
Reports surfacing in 2007 indicate that the following weapons have been added to the Pathfinder Platoon arsenal:
C8 SFW Carbine, of the type employed by the SAS and SBS
UGL 40mm grenade launcher (attached to C8 SFW)
Sig Sauer P226 9mm pistol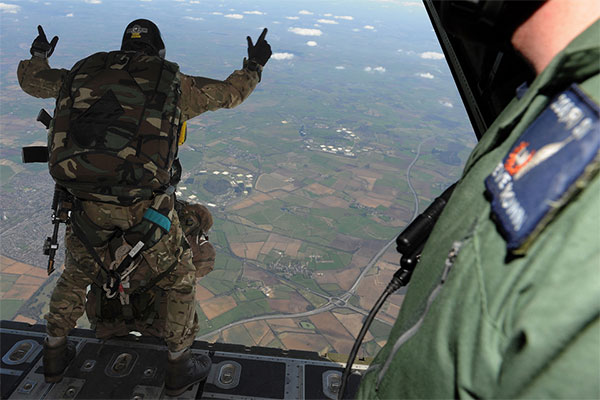 Pathfinder Platoon Selection
The Pathfinder Platoon's Selection Cadre is one of the most arduous in the world. It covers much of the same ground as UKSF selection, (literally - many of the marches take place on the Brecon Beacons), although condensed into a shorter time scale (5 weeks). The Pathfinder selection course consists of :
Week 1: Aptitude/Pre-selection. Candidates complete 2 x 8 mile speed marches, a 10 mile speed march and a 2 miler.


Week 2: Navigation. This phase features 4 DS-led cross-country marches across the Brecon Beacons and 4 test marches, culminating in Endurance, a 40 miler.


Week 3: SOP Phase. Candidates get a grounding in PF Platoon Standard Operating Procedures such as basic patrol skills and the construction of concealed observation posts (OPs).


Week 4: Range Phase. This live firing phase takes place on Sennybridge Training Area (SENTA) and focuses on contact drills, including man-down drills. Candidates also receive a grounding in demolitions.


Week 5: Final Exercise - in which the candidates, working in 4-6-man teams, plan and execute typical reconnaissance missions. Selection culminates with the candidates being 'captured' and put through mock interrogations in order to test their resistance to questioning.
Those who successfully complete Pathfinder selection move on to in-depth training in weapons, radios and other patrol skills. Pathfinders qualify as High Altitude Parachutists by completing a HALO/HAHO training course (Military Free Fall Course).
Pathfinder Operations
Sierra Leone 2000
During Operation Palliser the Pathfinder Platoon engaged RUF troops at Lungi Loi, in which several enemy soldiers were killed. It was during the Pathfinder's engagements in Sierra Leone that shortcomings with the SA80a1 assault rifles - which were the standard rifle of the British Army - came to a head. In at least one contact, many of the Pathfinders were unable to release the safety catch on their SA80s, due to the extreme heat (1). Fortunately the platoon was able to bring their GPMGs to bear during the contact and no British lives were lost.

more info: Parachute Regiment / Pathfinder Operations in Sierra Leone

Iraq 2003
During Operation Telic the Pathfinders drove into Southern Iraq on WMIK Land Rovers and carried out reconnaissance and offensive operations ahead of the main invasion force.

Afghanistan
The Pathfinder Platoon has carried out a number of tours in Afghansitan. They were in Kabul in later 2001 then spearheaded the British deployment into Helmand Province in 2006. They have since deployed as part of 16 Air Assault Brigade roulements to Afghanistan in 2008 and 2010/2011.

more info: Pathfinder Platoon in Afghanistan, 2006
more info / further reading:
---
Recommended Reading
The following books are recommended reading on theou Pathfinder Platoon...
Maverick One: The True Story of a PARA, Pathfinder, Renegade

by David Blakely

This is a must for anyone looking for an insight in the Pathfinder Platoon's selection process. Written by a former Pathfinder, it includes a details account of the unit's selection cadre. It also features first-hand reports of PF ops in Afghanistan and Iraq as well as the author's earlier experiences in the PARAs.
Pathfinder: A Special Forces Mission Behind Enemy Lines

by David Blakely

An exhilarating first-hand telling of a Pathfinder Platoon patrol during the invasion of Iraq in 2003. It is an incredible story of behind-the-lines soldiering, culminating in a thrilling and intense firefight as the 2-vehicle patrol attempts to fight its way out of trouble. Don't miss this one.
---