Royal Marine Or Incredible Hulk?
04.10.2007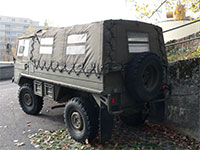 A remarkable tail of strength and courage has emerged from Afghanistan.
Juliet Company, 42 Commando, Royal Marines was operating in the Sangin Valley, Helmand Province, when, on the night of November 5th, 2006, it came under heavy Taliban mortar fire. A section of Commandos was travelling in a Pinzgauer 4x4 truck along a river bank when an exploding mortar round caused it to topple into the deep water.
Most of the Marines were able to scramble free from the wreck but one, Marine Mark Farr, 29, was pinned under the 2-ton vehicle. Farr was trapped underwater and close to drowning.
It was then that Colour Sergeant Carl Tatton, 38, 'Tatts' to his friends, came to the rescue of his 'oppo'. With more mortar rounds landing around the crash site, Tatton leapt into the water and in an amazing feat of strength, lifted the Pinzgauer vehicle up enough for Marine Farr to be released.
Whilst Colour Sergeant Tatton remains modest about his feat, his colleagues have heaped praise on him for his near superhuman display of strength, his quick thinking and coolness under fire. Experts in physiology have long known that in times of stress, with adrenaline pumping, that humans can perform seemingly impossible physical feats and this incident certainly proves the point.
The incident happened in November 2006 and has only come to light now that 42 Commando have returned home to their base in Plymouth from their tour of duty in Afghanistan.
Further reading:
'Incredible Hulk' Royal Marine lifts two-ton truck off drowning comrade during gun battle in Afghanistan
(Daily Mail online report)