New L129A1 'Sharpshooter' Rifle For UK Forces
12.01.2010
Jane's Defence Weekly is reporting that UK forces are to field a new 7.62mmx51mm rifle in the campaign against the Taliban.
The rifle, designated the L129A1, is a version of the LM7 as supplied by the US firm, Law Enforcement International (LEI). The L129A1 features a 20-round magazine, retractable stock, rails for mounting scopes and accessories and a 16 inch stainless steel, rapid-change barrel.
The L129A1 will replace the aging 7.62mm L96 rifles in the 'sharpshooter' role ie engaging targets out to 800 meters. Sharpshooters are trained to a grade below snipers, who are typically armed with the .338 caliber L115A3 rifle. While the bolt-action L96 is an accurate weapon it is not as suitable for a soldier assigned to an infantry squad as a semi-automatic rifle such as the L129A1. UK Special Forces (UKSF) sharpshooters have been known to use the semi-automatic 7.62mmx51mm HK417, a rifle that was reportedly considered for the new MOD procurement, along with other weapons such as the FN SCAR.
The MOD has reportedly ordered 440 of the rifles for use in Afghanistan. Various news reports have stated that the L129A1 will first be fielded with the Parachute Regiment when they deploy with 16 Air Assault Brigade in the upcoming Operation Herrick XIII, Ocotober 2010.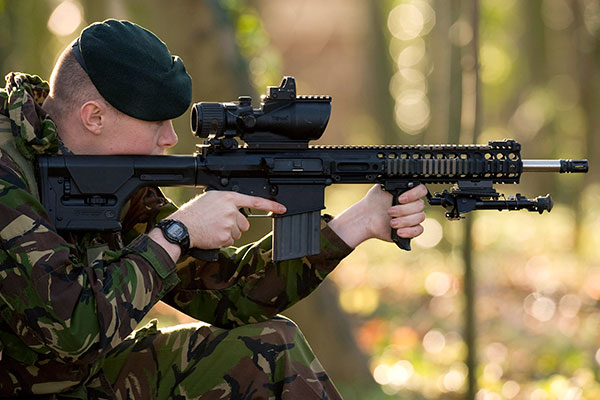 Further reading:
UK selects 7.62 mm Sharpshooter weapon for Afghan ops
(Jane's Defence Weekly)