The Parachute Regiment (Paras)
The Parachute Regiment, or 'The Paras', was formed during World War 2. Designed as shock troops, Paras were dropped behind German front lines to capture key positions then hold them until the rest of the invasion force could link up with them. The modern day Parachute Regiment provides infantry to Britain's air mobile rapid deployment force, 16 Air Assault Brigade and specialised infantry support to British special forces.
Parachute Regiment Selection
Those wishing to join the Paras must pass a series of initial British Army tests, followed by PARA-specific selection and training.
more info : Parachute Regiment selection
more info : Pre-Parachute Selection (PPS)
Parachute Regiment Organization
The Parachute Regiment is formed from 3 regular battalions and 1 reserve.
1st Battalion Parachute Regiment
(1 PARA)
(now part of the SFSG and named 1 PARA SFSG)
2nd Battalion Parachute Regiment
(2 PARA)
3rd Battalion Parachute Regiment

4th Battalion Parachute Regiment (4 PARA)
1 PARA is assigned to the Special Forces Support Group and come under the control of the UKSF directorate. 2 & 3 PARA provide troops for 16 Air Assault Brigade. 4 PARA are a territorial unit who provide reserves integrated into 2 and 3 PARA.
PARA Battalion ORBATs
1, 2 and 3 PARA's order of battle (ORBAT) are slightly different to each other.
1 PARA ORBAT
See SFSG section for details
*note: 2 and 3 PARA ORBATs are currently undergoing restructing as part of the ARMY 2020 program.
2 PARA ORBAT
A (Command) Company
Battalion Headquarters (BHQ)

Intelligence Section
Training Wing
Patrols Platoon
Battalion-level recce
Signals Platoon
Assault Engineer (AE) Section
Provost Staff (Military Police)
Sniper Platoon
8 x 2-man teams using L115a3 sniper rifles

Headquarters Company
Provides logistic, medical and admin support to BHQ

Quartermasters
Motor Transport Platoon
Regimental Administration Office
Regiment Aid Post
Catering Platoon

3 Rifle Companies
B, C & D Coys provide the main assault units and are each comprised of a Company HQ and 3 platoons, with each platoon formed from 3 sections.
Support Company
Support Coy provides both direct and indirect fire support to the Rifle Companies and is comprised of an HQ element and several platoons:
3 PARA ORBAT
D (ISTAR) Company
(same as 2 PARA A (Command) Company)
Headquarters Company
(same as 2 PARA)
3 Rifle Companies
A, B & C Coys. B Coy includes No. 6 (Guards Parachute) Platoon, which is drawn from the 5 Foot Guards regiments.
Support Company
(same as 2 PARA)
Drop Zone Flashes
Paratroopers from each Parachute Regiment batallion wear colour-coded flashes below their PARA Wings on their right arms to identify them.
| | | | |
| --- | --- | --- | --- |
| | | | |
| 1 PARA | 2 PARA | 3 PARA | 4 PARA |
Parachute Regiment Video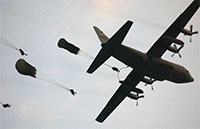 Parachute Regiment Ethos
The Paras' intensive training and regimental culture instills in them a fierce sense of confidence and aggression - qualities essential for airborne shock troops. The PARA's regimental motto is "'Utrinque Paratus' ('Ready for Anything'). Their ethos, training and experience makes a PARA an ideal candidate for joining the Special Air Service. It's been reported that the SAS is now made up of close to 60% ex-Paras.
Operational History
The Paras have been at the forefront of many British actions in World War 2 and onwards. The Parachute Regiment further distinguished itself during the 1982 Falklands conflict, where they fought and won several key battles. Members of 3 PARA were recently (2006) deployed to Helmand Province, Afghanistan where they fought almost daily battles with Taliban forces. Paras in the SFSG provide continuing support to SAS and SBS operations in Iraq and Afghanistan.
Some notable Parachute Regiment operations include:
1982 - Operation Corporate
The Parachute Regiment in the Falklands Conflict


1999 - Operation Agricola
The Paras in Kosovo


2000 - Operation Palliser
1 PARA Battle Group in Sierra Leone


2001 - Operation Essential Harvest
2 PARA, as part of 16 AA Bde, took part in the NATO operation to gather and destroy the weapons of ethnic Albanian groups in Macedonia.
(view photos here and here)


2002 - Operation Veritas
As part of NATO efforts to stabilize Afghanistan (ISAF), 2 PARA deployed to the capital, Kabul.


2003 - Operation Telic
1 and 3 PARA, reinforced by 100+ troops from 4 PARA, deploy with 16 Air Assault Brigade for the British part in the US-led invasion of Iraq.


2006 - Operation Herrick IV
3 PARA, at the core of 3 PARA Battle Group, deploy to Helmand Province, Afghanistan as part of ongoing NATO stabilization and reconstruction efforts in the region.
3 PARA - Operation Herric IV
Pathfinder operations in Afghanistan, 06
Parachute Regiment Equipment
The Parachute Regiment is designed as a self-sufficient assault force. Everything needed for an operation is air-dropped / lifted into action with the men.
WMIK Land Rovers

Along with artillery units and mortars, the Paras bring along heavily armed WMIK (Weapon Mount Installation Kit) Land Rovers. WMIKs can be fitted with a range of weaponry including GPMGs, .50 cal HMGs, Milan anti-tank missiles launchers and anti-aircraft (SAM) missiles. Milan Anti-Tank missiles are not only effective against armour but are devastating when used against bunkers and dug-in positions. The combination of transportability, mobility and firepower are perfect for the Parachute Regiment who like to get in quick and hit hard.

Supacat ATMP

These 6x6 versatile all-terrain vehicles are used as troop carriers by the Paras.

more info : the ATMP
Pathfinder Platoon
The Pathfinder Platoon is a special reconnaissance force made up of (mostly) Paras integrated into 16 Air Assault Brigade.

more info : Pathfinder Platoon
Red Devils
Members of the Parachute Regiment form 'The Red Devils', the renowned parachute display team.
(view photo here)