L115A3 Long Range Rifle
The L115A3 long range rifle is a bolt-action sniper rifle that is chambered in .338 Lapua Magnum. The L115A3 was introduced as part of the Sniper System Improvement Programme (SSIP), with the first weapons being fielded by 16 Air Assault Brigade in Helmand in 2008. It largely replaces the L96 and L115A1 sniper rifles previously fielded by UK forces.
The L115A3 is manufactured by Accuracy International. Among its features are:
chambered in .338 Lapua Magnum (8.59mm) with an effective range of +1,100 meters
stainless steel, fluted, 686mm barrel
Schmidt & Bender 5-25x56 PM II day scope with variable 5 to 25 x magnification.
Sniper Thermal Imaging Capability (STIC) thermal scope mounted forward of the day scope allows for target acquisition at night / low-light conditions
The weapon can be fitted with a suppressor in order to reduce muzzle flash and noise signature.
The stock folds which makes the weapon easier to carry in a backpack.
Adjustable cheek-pieces, a stabilizingrear monopod and an adjustable front bipod for improved shooting ergonomics
5-round box magazine
In 2009, a British army sniper used a L115A3 to score the longest sniper shot in history when he took out 2 Taliban machine gunners from a distance of over 2400 meters.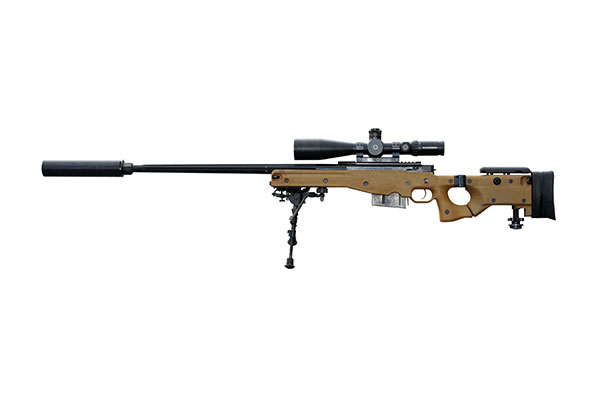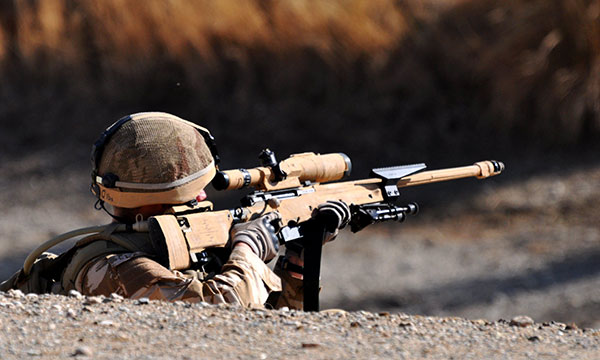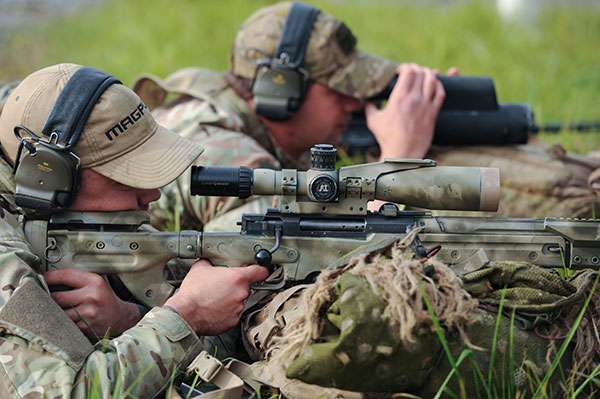 U.S. Army photo by Markus Rauchenberger