end In Sight For Commando Sea Kings
18.02.2016
A chapter in Commando Helicopter Force (CHF) history will come to an end at the end of next month when the last Sea King helicopters are retired from CHF service.
Most of the CHF Sea Kings have already gone. The CHF Naval Air Squadrons (NAS) that operated the Sea King have transitioned, or are in the process of, transitioning, to the Merlin. The remaining Sea King force is operated by 848 NAS.
848 NAS' main role was training CHF Sea King pilots before they were assigned to 845 NAS or 846 NAS. The squadron does also have another, more secretive role. The squadron's M Flight is assigned to the Maritime Counter Terrorism (MCT) commitment. This role requires a flight to be on standby to support Special Boat Service (SBS) MCT operations. An example of such an MCT operation occured in 2001 in the English Channel. It is beleived that 848 NAS contributed airlift to an SBS / SAS operation to intercept a suspected terrorist vessel off the British coast.

more info: the raid on the MV Nisha
When 848 NAS disbands at the end of March, the MCT commitment will be taken up by elements of 846 NAS, who will initially operate the Merlin Mk3i, a partially-navalised variant of the helicopter.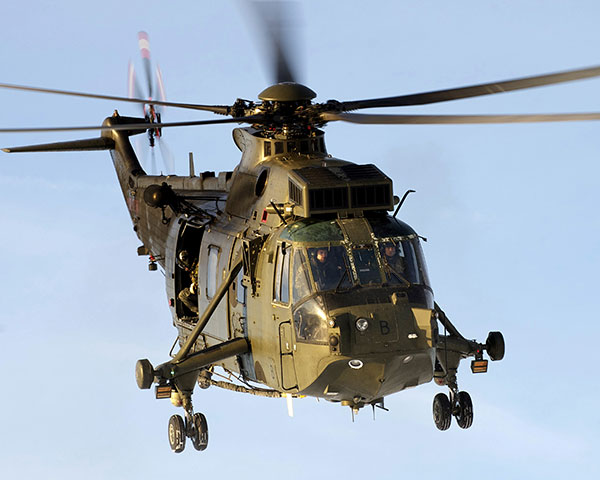 Naval Air Squadrons (NAS) 845, 846 and 848 have flown the Sea King for 36 years in operations around the world, flying in support of 3 Commando Brigade and the Special Forces. The aircraft has seen action in the Falkland Islands, Northern Ireland, Kuwait, Iraq, Afghanistan and many other theaters.
During the Falklands conflict, Sea Kings from 846 NAS pioneered the use of night vision goggles when inserting SAS and SBS teams onto the islands. 846 NAS also made history when it's Sea Kings facilitated an SBS mission against an an Argentinian spy trawler. The operation was the first ever helicopter-borne assault of an enemy vessel.
CHF Sea Kings flew in support of 3 Commando Brigade during Operation Telic, Iraq, 2003. CHF squadrons flew several tours of Afghanistan. The Mk4 was upgraded with new rotor blades so it could better perform in Afghan conditions. The upgraded Sea King was designated as the Mk4+.
Throughout its service with the CHF, the Sea King has had an excellent safety and reliability record. It has served its country well and it will be sad to see it go.
Related Items