A400 Beach Trials
18.06.2017
Pictures and video were released this week showing A400M Atlas being put through its paces on a beach testing ground in South Wales.
The trial was run at Pembrey Air Weapons Range by DE&S A400M Project Team in conjunction with the Royal Air Force (RAF) and Airbus, the plane's manufacturer.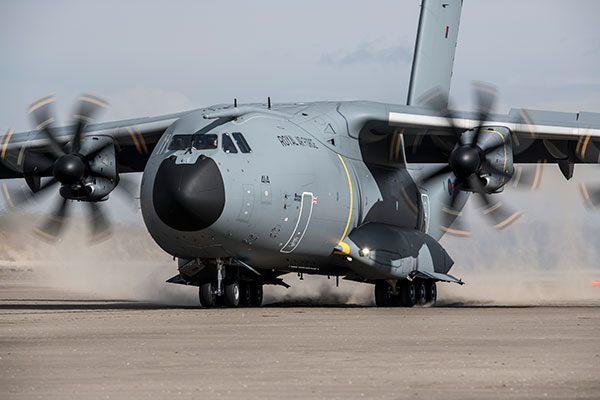 Demonstating its ability to land on austere air fields and flat ground such as beaches, fields and desert areas move the A400M closer to proving its suitability for the tactical role. Tactical ops include air drop of parachutists and Tactical Air Land Operations (TALO). During TALO missions the aircraft performs an assault landing on an airstrip, disgourges its cargo of men and vehicles, then rapidly takes off.
Special operations are currently the domain of 47 Squadron who operate the Hercules C4 and C5 in that role. According to reports, the Atlas is considered too big for the special operations mission.[1] This assessment has led to a number of Hercules being held back from planned replacement by the Atlas in order to maintain a special operations capability.
More info / further reading: