Elite Royal Marines Denied Attempt To Thwart Pirate Kidnappers
29.11.2009
The Daily Mail newspaper has revealed that a team of elite Royal Marines were forced to stand down rather than intervene to rescue a British couple kidnapped by Somali pirates.
The couple, Paul and Rachel Chandler, had been aboard their yacht on the Indian Ocean when they were kidnapped by pirates operating from small skiffs. A multi-national Naval force operating further north in the Gulf of Aden had forced the pirates to look further afield for their victims.
Days after the kidnapping, Royal Fleet Auxiliary ship Wave Knight was sent south to prevent a pirate mother ship, the Kota Wajar, from rendezvousing with their fellow pirates holding the Chandlers aboard the captured British yacht. Wave Knight was not only armed with various cannons and machine guns but was carrying a compliment of Fleet Protection Group Royal Marines and a Merlin helicopter.
The Wave Knight found and shadowed the Kota Wajar. THe FPG Marines were poised to launch an assault and take the Kota Wajar but the order never came. Instead the Marines watched, frustrated, as the pirate ship reached the Chandler's yacht and preceded to take their fellow pirates and the British hostages aboard.
Commentators have wondered why the FPG Marines were not ordered to storm the Kota Wajar before it could reach the Chandler's yacht. Although the Chandlers would still have been in the hands of the pirates aboard their yacht the British forces would have been in a strong position to contain the situation until either a negotiated release or military operation could have been arranged.
The Mail goes on to report that an operation by the Special Boat Service (SBS) was in fact on the cards, although this was delayed by up to 6 hours for reasons as of yet undisclosed The plan was to fly the SBS, likely to be Maritime Counter Terrorism specialists from M Squadron, by C-130 from RAF Brize Norton to a rendezvous point in the Gulf Of Aden, where they would parachute into the sea and be taken aboard HMS Cumberland. Once on board the warship, the SBS commandos would then be able to launch a rescue operation.
Alas, HMS Cumberland and the SBS arrived several hours after the Chandlers had been transferred and the pirate mother ship had left the scene. It's thought that the Chandlers have since been taken off the Kota Wajar and moved to a hiding place somewhere in Somalia. The pirates are demanding a multi-million dollar ransom for the safe return of the British couple.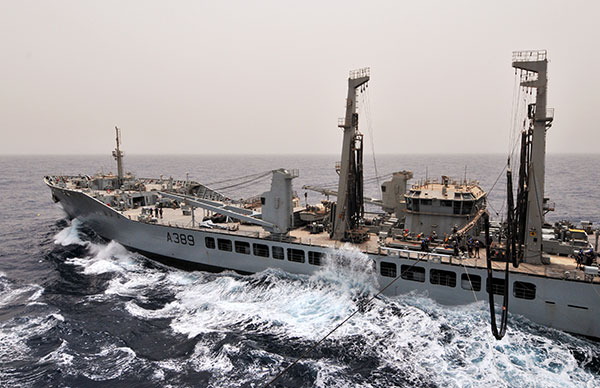 U.S. Navy photo by Chief Mass Communication Specialist Tony Sisti/Released
Further reading:
Royal Marines could have rescued pirate hostages, but the order to attack never came
(The Daily Mail)