PARAS To Deploy In Full Strength to Afghanistan
30.09.2007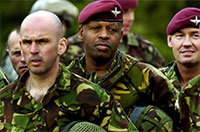 DoD photo by:
U.S.ARMY SSG. RUSSELL LEE KLIKA
It has been reported that the UK will be sending the entire Parachute Regiment to Afghanistan next spring. All 3 regular battalions - including most of 1 PARA in the form of the Special Forces Support Group - plus the Regiment's reserves, 4 PARA, will all be operating on the same battlefield. This will be the first time in the PARA's history that they have deployed in full strength to one arena.
The Taliban traditionally increase attacks in the Spring, following a lull over the winter. The Paras, along with other UK forces plan to be ready to take them on. The planned deployment of the Paras is part of a larger increased emphasis on Afghanistan by new UK Primeminister, Gordon Brown.
UK Special Forces, spearheaded by the SBS, will concentrate on Southern Helmand, going after Taliban leadership and the Drug Barons that use the sale of opium to support the insurgency.
The RAF will increase the number of attack aircraft in the region, complementing Harriers already deployed with Tornados and Typhoons.
Britain is examining letting Private Military Contractors assist UK forces with various tasks such as base security escorting convoys and VIP protection.

Further reading:
Biggest blitz by paras since WW2 to crush Taliban
(Times online report)