BV 206D All Terrain Vehicle
The Hagglund BV 206D is a tracked all-terrain amphibious vehicle in service with the Royal Marines and British Army. Like the Viking APC, built by the same company, the BV-206D was designed for arctic conditions but has proven to be equally at home on sand as well as snow.
The BV 206D consists of 2 powered, articulated cars able to carry men and tow light guns, such as the 105mm howitzers of 29 Commando Reg Royal Artillery, and trailers full of supplies. A diesel engine and transmission is provided by the front car, The two sets of caterpillar tracks offer good mobility over rough terrain. The BV 206D is fully amphibious. When in water, forward motion is provided by the tracks across the water bed.
BV 206D Specifications
Engine
6 cylinders
4 stroke turbo diesel
2996 litre


| | |
| --- | --- |
| Max Power | 202 kw (275 HP) |
| Max Torque | 950 Nm @ 1500 rpm |

Transmission
Automatic 4-speed forward / 1 reverse
Maximum speed
50 kph on road
3 kph in water
Range on roads
330km
Tracks
Moulded rubber with cord
Combat weight
6540 Kg
Dimensions

| | |
| --- | --- |
| Length | 6.9m. |
| Width | 1.87m |
| Height | 2.3 m (front car) 2.45 m (rear car) |

Operating temps
Crew
17 (Driver + 10 passengers)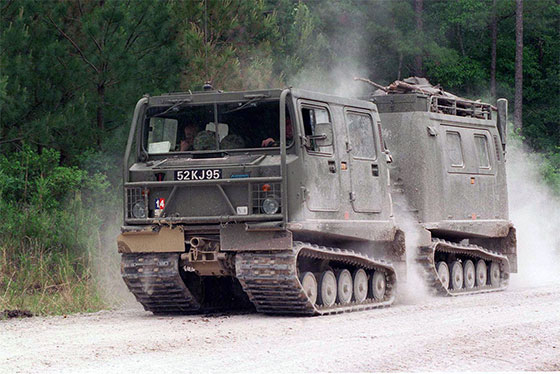 DoD photo by: CPL. A. OLGUIN