Land Rovers
The Land Rover has been around since the late 1940s and there are up to 12,000 currently in service, in a variety of variants. It has been a popular utility vehicle that has off-road capability thanks to its 4-wheel drive.
The more common variants used by UKSF and other elite UK forces are the Defender / Wolf and the Snatch / Vixen.
Defender XD / Wolf
The Wolf or XD (extra duty) is the military version of the Land Rover Defender. In UK military service it comes in 2 main varieties: the more common Truck Utility Medium (TUM), based on the Defender 110; and the Truck Utility Light (TUL), based on the shorter-wheelbase Defender 90.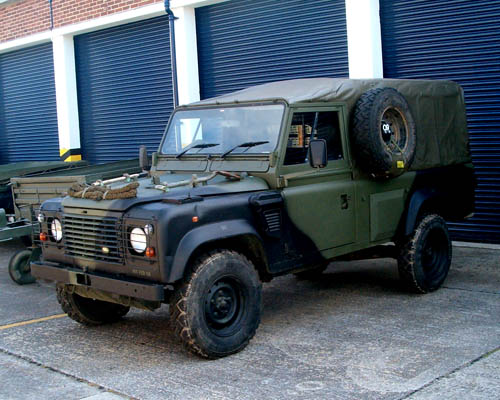 Image by Talskiddy | public domain
The Wolf shares the same chassis, body panels and rails as the civilian Defenders on which they are based. The military versions come with a new subframe, better-protected fuel tanks, new axles and various reinforcements enabling additional weight.
Land Rover Wolf (XD 110) Specifications
| | |
| --- | --- |
| Engine | Land Rover 300 Tdi engine 111 hp (83 kW) |
| Maximum speed | 160 kph on mettled road |
| Suspension | coil-springs |
| Weight | 1.6 tonnes |
| Max Range | 573km |
Both the Royal Marines and Parachute Regiment use XD-110/90s to transport men and supplies. Land Rovers can tow light howitzers and trailers stacked with supplies behind them.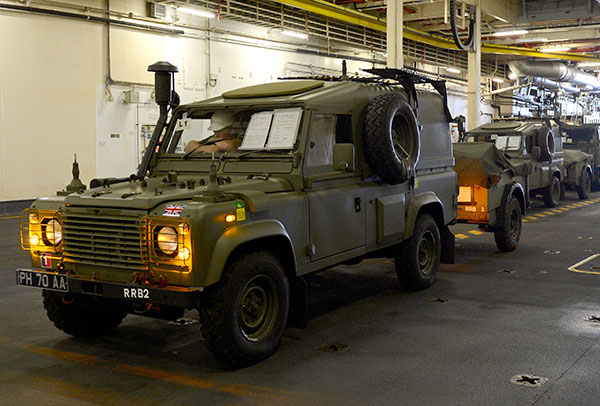 WMIK Land Rover
The Wolf TUM is the basis for the Weapons Mount Installation Kit (WMIK), an armed reconnaissance and fire support vehicle.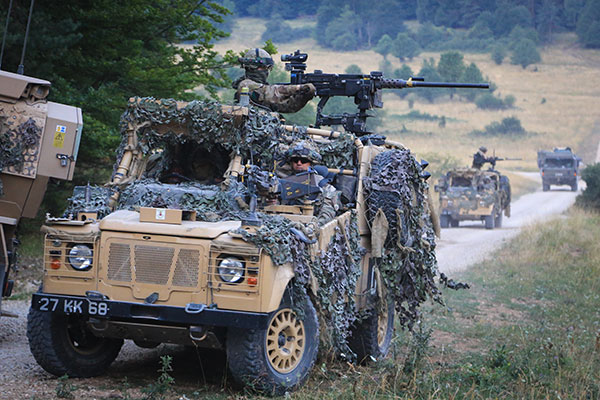 U.S. Army photo by Sgt. Alexandra Hulett/Released
more info: WMIK Land Rover,
Special Forces Land Rovers
The SAS is famous for adapting various models of Land Rover for long range desert patrols and strike vehicles. SAS Desert Patrol Vehicles (DPV) were festooned with an array of weaponry and driven into the Iraqi desert during Operation Desert Storm. Armed Land Rovers were also used by SAS and SBS formations during the opening stages of the 2003 Iraq War.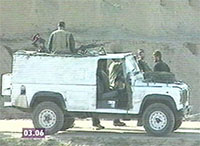 more info: SAS Desert Patrol Vehicles
It is now beleived that the Regiment has largely replaced their 110s with Supacat HMT 400s, an armoured all-terrain vehicle that was the precursor to the Jackal.
The SBS was spotted driving white XD 110 Land Rovers around Northern Afghanistan in late 2001. An SBS unit was acting as a quick reaction force (QRF) for the region around the city of Mazar-i-Sharif. Their Land Rovers were painted white to better blend in with civilian traffic.
Waterproof / Winterised Land Rover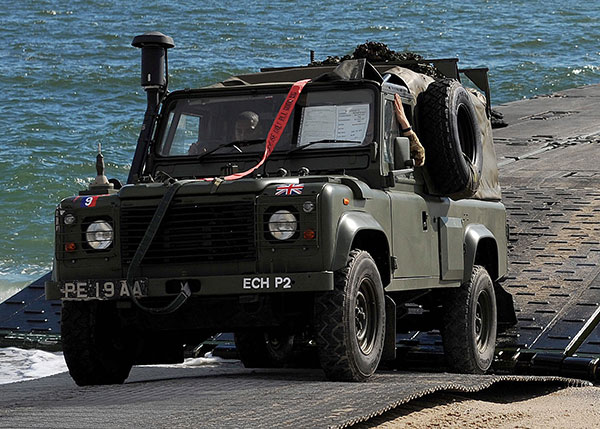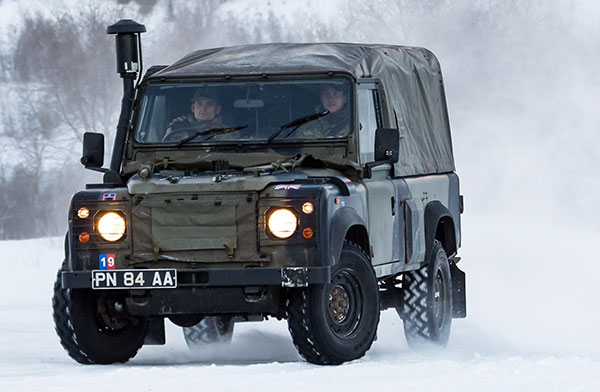 Land Rover Battle Field Ambulance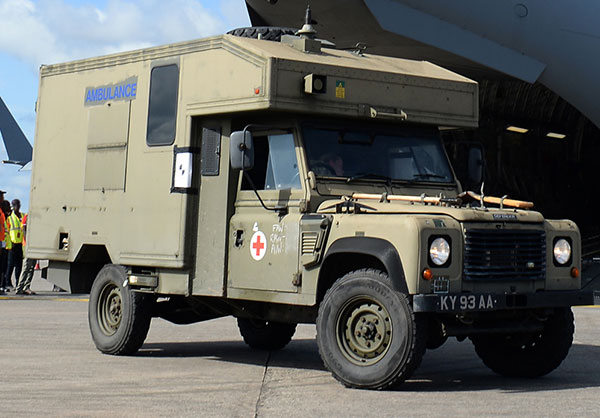 Land Rover Battle Field Ambulance) Specifications
| | |
| --- | --- |
| Weight | 3.7 tonnes (laden) |
| Engine | 2.495 litre 4-cylinder (in line water cooled; indirect injection; turbo injection) |
| Dimensions | 3.72 m (L) x 1.99 m (H) x 1.79 m (W) |
'Snatch' Land Rover
Snatch Land Rovers were originally developed for use in Northern Ireland, first being deployed in 1992. They got their name from their use by security 'snatch squads' during arrests.
The Snatch was based on Land Rover XD 110, with an enclosed rear area for the transport of troops and prisoners. The vehicle was fitted with armour, intended to provide protection against small arms fire, although in reality this proved lacking.
The Snatches were deployed to Iraq and Afghanistan where they were used for patrolling, and troop and prisoner transports. Despite their armour, and electronic countermeasures specifically designed to deal with the threat, they were still vulnerable to road-side bombs.
The most recent variant of the Snatch was the Snatch Vixen. Their design was based around a 4.0 tonne GVW Ricardo Land Rover XD 110 chassis which had been fortified with composite armour. The Vixen upgrades featured an automatic gearbox, a reinforced chassis and a completely rehauled suspension system. Extra protection came in the form of a belly-plate beneath the front seats.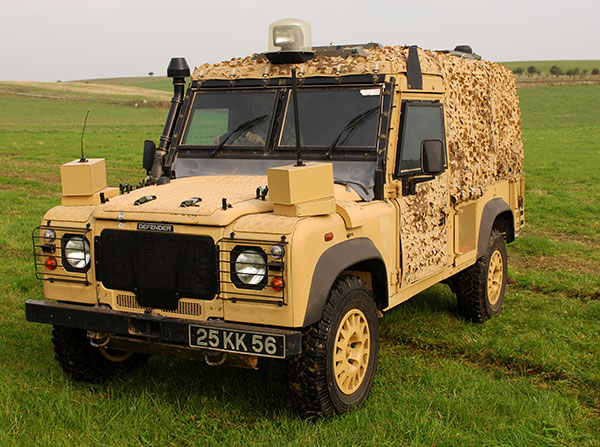 Despite the Vixen's improvements, after several losses in Afghanistan, the Snatch was withdrawn from service, replaced by the Ocelot, Vector and Mastiff.
Land Rover Snatch 2 Vixen Specifications
| | |
| --- | --- |
| Weight | 3.050 tonnes |
| Dimensions | 4.8 m (L) x 2.37 m (H) x 2.0 m (W) |
| Wheelbase | 2.79 m |
| Turning Circle | 13.25 m |