Mobility Troop - Supacat HMT 400
It had long been been rumored that the SAS and SBS were looking for a replacement for their fleet of Land Rover Desert Patrol Vehicles, which were coming to the end of their operational life. Two pre-existing MoD tenders, namely the Surveillance and Reconnaissance Vehicle (SRV) and the Offensive Action Vehicle (OAV) programs, were combined into one. The tender was won by British Manufacturer, Devonport and the resulting vehicle was the Supacat HMT 400.
The Supacat HMT 400, officially designated as the Surveillance and Reconnaissance
Vehicle/Offensive Action Vehicle (SRV/OAV) and codenamed 'Menacity', was first fielded by UKSF, including SAS Mobility Troop, in 2003-2004.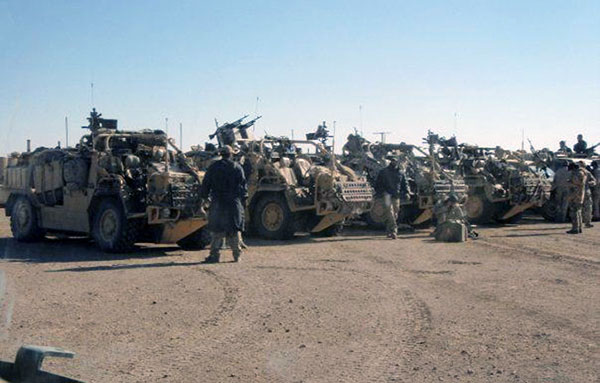 With a chassis and wheel-base looking closer to a truck, the Supacat HTM 400 has better armour, off-road mobility and load-carrying ability than the Land Rover 110 it replaces. The ability to carry more stores enables UKSF long range patrols to operate for longer with fewer, risky re supply ops. Despite its greater bulk, the Supacat is as agile as the Land Rover, and boasts an impressive top speed of 80 kph.
As with the Land Rover DPVs, the SAS Supacat HMT 400s can carry combinations of HMG .50 cal machine guns, MK-19 or HK GMG 40mm grenade launchers, GPMGs and Javelin anti-tank missiles. Smoke grenade dispensers adorn the front and rear of the Supacat and can be fired to create a smoke screen.
For rapid deployment by air, Supacat HMT 400 can be transported by C130 Hercules, C17a and A400M cargo planes and by RAF Chinooks (as an underslung load). The vehicles can, in theory, be transported internally by Chinook, although the HMT 400's weapons have to be removed and the roll bars / folded down to allow this.
UKSF HMT 400s feature run-flat tires and infrared headlight filters for use with night vision goggles.
Non-UKSF UK forces use the MWMIK 'Jackal', later upgraded to Jackal 2, which is pratically the same design as the HTM 400. Differences include the carrying of 2 spare tires, compared to the Jackal's one, and, in initial deployments, a lack of the armoured doors and other panels of balistic protection found on the MWMIKs. UKSF HMT 400s were later fitted with bolt-on armour upgrades.
Supacat HMT400 Specifications
Engine
Cummins 6-cylinder 5.9-litre turbo-charged diesel engine


| | |
| --- | --- |
| Max Power | 134 Kw (185 BPH) @2500 RPM |
| Max Torque | 650 Nm @ 1500 rpm |

Transmission
Allison 2500 automatic 5-speed
Maximum speed
80 kph on mettled road
Wheels
20 in x 10 Alloy one-piece drop well rims or run flat rim system
Weight

| | |
| --- | --- |
| Axle 1 | 3500kg |
| Axle 2 | 3500kg |
| UW | 4700kg |
| GVW | 7000kg |

Tyres
Michelin 335/80R20 XML MPT TL 141 K
Fuel System

| | |
| --- | --- |
| Main Tank | 147 litre |
| Aux Tank | 50 litre |

Features:
Power Steering
Adjustable steering column
Twin shock absorbers on per wheel station
UKSF also use HMT 600s, a 6x6 truck with many common parts to the HMT 400. The HMT 600 fulfills the role of a 'mother' vehicle, a role previous performed by cut-down army trucks such as the unimog. The HMT 600 is loaded with spare ammo, fuel and water and travels with a fighting column of UKSF HMT 400s. Sharing common parts would simplify the logistics of such operations. The MoD went on to purchase this 6x6 vehicle as the Coyote Tactical Support Vehicle (TSV), for use by non-UKSF units.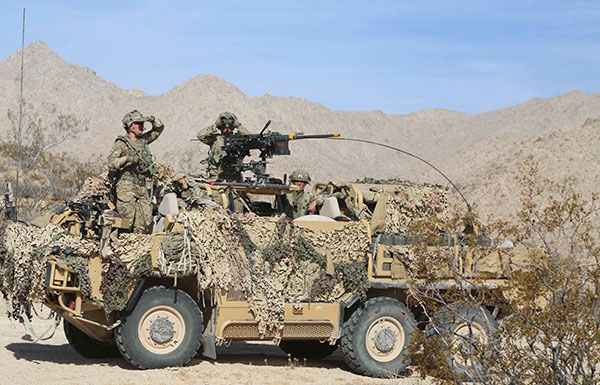 « special air service - mobility troop