Rigid Hull Inflatable Boat (RIB)
Rigid Hull Inflatable Boats (RHIBs or RIBs) are designed for operations on the open sea and in coastal waters. The Royal Marines, SBS and SAS Boat Troop use RIBS for a range of roles, including Maritime Counter Terrorism (MCT), ship-boarding, counter-piracy and counter-narcotics.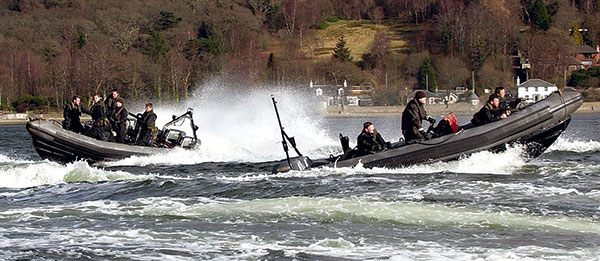 RIBs used by the Royal Navy are manufactured by BAE Systems Halmatic. They come in a range of sizes (28, 24 and 22 feet long) and in both Arctic and Pacific variants. The Arctic boats are powered by petrol-driven outboard motors whereas the Pacifics employ an inboard diesel engine powering a sterndrive or waterjet.
RIBs have v-shaped hulls made of Glass Reinforced Plastic (GRP) with a collar made of inflatable neoprene tubing around them to provide buoyancy. Decks are made of plywood. This design makes them light, fast and durable. It also means there is little protection from small arms fire for those on board. The RIB's v-shpaed hulls make them unsuitable for landing on beaches, limiting their role to boat-to-boat operations and general patrolling.
Arctic 28 boarding boats
These fast and sturdy 28 foot long RIBs are used by the SBS for Maritime Counter Terrorism ops. Arctics have a gun mount at the bow that can be fitted with a HMG. Arctics can be transported on road via trailers, in cargo plane, carried under slung and dropped into the ocean from RAF Sqn 7 Chinook helicopters or even airdropped into the water from C-130J Hercules aircraft.

In November 2001, a combined force of SBS/SAS used Arctic 28s to storm the MV Nisha, a cargo ship suspected of carrying terrorists.
UKSF RIBs are typically operated by Special Forces Boat Operators (SFBO) on a RIB Team from the Maritime Maneauver Squadron (MMS).
Artic 28 Specifications
Engines
2 X 250hp Outboard Petrol Motors
Speed
50 knots
Range
150 nautical miles +
Fuel Capacity
965 litres
Dimensions
Length : 8.7 metres
Beam : 3.03 metres
Draft: 0.62 metres
Displacement
2380 kg
Pacific 24 sea boats
The standard sea boats for the Royal Navy and Royal Auxillary fleets, these 24-foot-long RIBS are used for rescues, patrols and boarding operations, including on counter-piracy and counter-narcotics missions. A GPMG can be mounted at the bow.
Pacific 24 (Mark 4) Specifications
Engines
Yanmar 6LYA-STP inboard diesel with Hamilton HJ 241 waterjet
Speed
39 knots
Range
150 nautical miles +
Fuel Capacity
165 litres
Dimensions
Length : 7.8 metres
Beam : 2.57 metres
Draft: 0.54 meters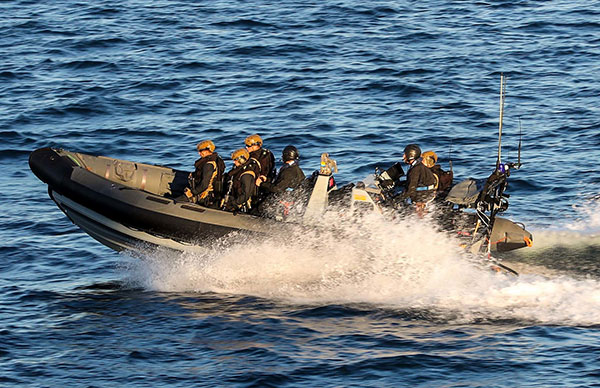 NATO photo by GBRN LPhot Paul Hall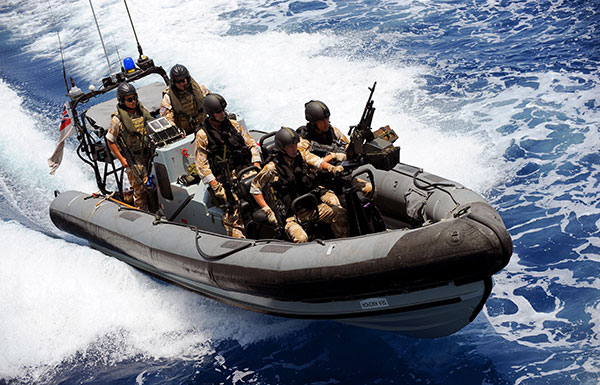 Pacific 22
The Royal Navy also operates a small number of Pacific 22 boats, used as general sea boats. They have a smaller seating capacity and endurance than the 24 models. The boat supports carrying 2 crew and up to 13 passengers. The maximum hoisting weight, however, is based on 2 crew + 5 passengers. The Royal Navy has operated Pacific 22 since 1980. These were powered by a sterndrive propellor system driven by an inboard Mermaid Turbo 4 diesel engine. The Pacific 22 MK2 was introduced in 2000 and featured a Yanmar 4LH-STE 190hp inboard diesel driving a Hamilton HJ 241 waterjet.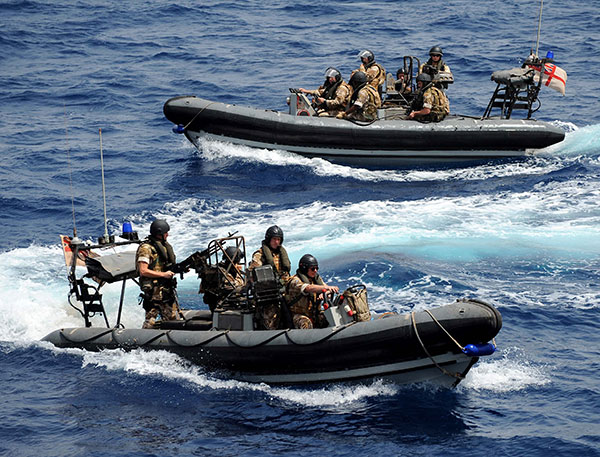 Pacific 22 Mk II Specifications
Engines
Yanmar 4LH-STE inboard diesel with Hamilton HJ 241 waterjet
Speed
32 knots (lightship)
Range
78 nautical miles
Fuel Capacity
90 litres
Dimensions
Length : 6.74 metres
Beam : 2.44 metres
Draft: 0.50 meters