L82a1 .5 Caliber Barrett Anti-Material RIFLE
The L82A1 Barrett is a semi-automatic anti-material rifle in service with the Royal Marines. The US-made Barrett is chambered in .5 inch (12.7x99mm). The Barrett has an effective range of 2000 meters. The gun is fed from large magazines with a capacity of 10 rounds. Most Barretts are fitted with Leupold M series 10X telescope scopes.
In skilled hands, the Barrett can disable/destroy vehicles, light armour, parked aircraft and fixed installations such as radar dishes. It is also a highly effective anti-sniper weapon as its rounds can penetrate a sniper's cover such as walls. The Barrett has found a role in the global war on terror : disabling vehicle-mounted improvised explosives (terrorist-driven car bombs). A well-placed .50 round to a vehicle's engine block is enough to stop it in its tracks. L82A1s can also be used to clear IEDs and mines from a safe distance.

The SAS used the L82A1 during the 2001 Operation Trent, its attack on an Al-Qaeda base in Afghanistan.
The Barrett was used successfully by an IRA border sniper team in the 90s. Fired from within a specially modified saloon car, the Barrett claimed the lives of 7 British soldiers until the IRA unit was eventually arrested by the SAS.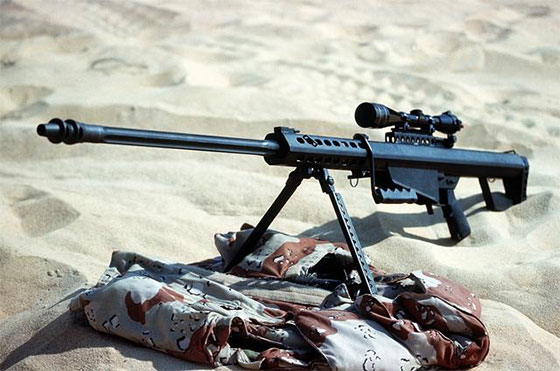 The .5 caliber Barrett anti-material rifle.
DoD photo by: SPC. HENRY