Forward Air Controllers
Forward Air Controllers (FAC) are highly trained specialists who provide a vital link between air and ground forces. Their primary role is to communicate with attack aircraft and call in attack runs on targets on the ground. An FAC, or Joint Terminal Attack Controller (JTAC), as they are known is U.S. and NATO circles are trained to call in air support from jets, helicopter gunships and armed drones.
When air power is used to support friendly ground units in contact with the enemy it is known as close air support (CAS). The nature of CAS is such that blue-on-blue or so-called 'friendly fire' incidents are always a risk, as is causing civilian casualties. FACs help to lower those risks by carefully selecting targets to ensure that the right ones are hit. In fact, it was standard operating procedure in Afghanistan that no CAS missions were to be carried out without a FAC on the ground, authorising every step of an engagement.
---
Special Forces FACs
Forward Air Control is a skill learned by many Special Air Service (SAS) and Special Boat Service (SBS). For instance, every 4-man SAS patrol is likely to contain at least one FAC-qualified member. The role of Special Forces FACs is not limited to calling in CAS to aid troops in contact. Working behind enemy lines, SAS/SBS FACs may call in strikes against strategic targets. An example of such a mission would be the SAS calling in jets to strike Iraqi Scud missile launchers during the 1991 Gulf War.[1] In 2009, an SBS FAC called in an Apache gunship to take out a Taliban leader travelling by motorcycle.[2]
---
Tactical Air Control Parties
TACPs are small teams made up of an officer and SNCO and 2 signallers. TACP FACs typically deploy at the company level, embedding with their assigned ground unit's headquarters element. From there they manage and support the FACs deployed out on patrol, control the airspace and book on-call CAS aircraft.
---
Fire Support Teams
Individual FACs that deploy to the frontline usually do so as part of a Fire Support Team (FST) alongside Mortar Fire Controllers (MFC) and Royal Artillery (RA) Forward Observation Officers (FOO). So comprised, the FST is able to bring the full gamut of close air support and mortar and artillery fire to bear as the need arises.
---
Special Observers with the Royal Artillery, such as those in 4/73 Special OP battery may become FAC-qualified, as may be members of 148 Battery, RA. Some members of Fire Support Teams with 29 Commando RA batteries are trained as FACs.
Brigade-level recce units, such as the Pathfinders (16 Air Assault Brigade ) and the Brigade Patrol Troop (3 Commando Brigade) rely on their own FAC-qualified personnel.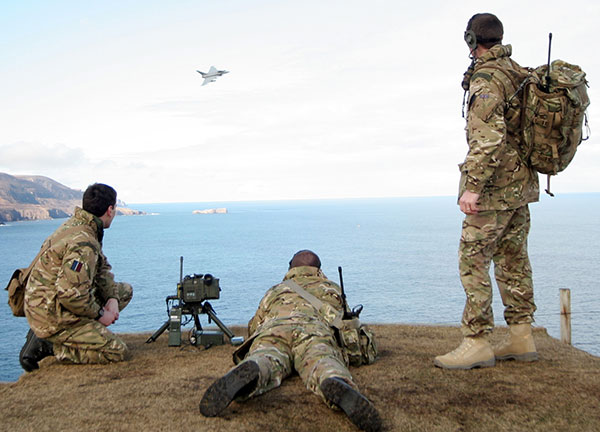 ---
Prince Harry
The role of Forward Air Controller gained some publicity when, in 2008 it was revealed that Prince Harry was serving as a TACP FAC while deployed to Afghanistan. Prince Harry, call-sign was 'Widow Six Seven', deployed with the Blues and Royals, The Household Cavalry Regiment, for Herrick 7 (October 2007 - April 2008).
CNN video of Prince Harry in Afghanistan, including working as FAC
(Youtube)
---
FAC Equipment
FACs employ secure encrypted radio systems to communicate with CAS aircraft and the battlespace managers back at HQ. In common use is the PRC-117F multiband manpack radio, which communicates with voice and data via UHF and TacSat. PRC-152 Multiband Handheld Radios are often carried by FACs out on patrol as they are lighter and eat through batteries at a slower rate than the PRC-117F.
A vital and sophisticated piece of kit carried by FACs is the Firestorm integrated targeting system. This is a modular system that greatly enhances the FAC's ability to acquire and send accurate targeting coordinates to CAS platforms. The system includes a laser range finder, tactical computer, JTAC targeting software and a High Accuracy Lightweight Targeter (HALT) module. The StrikeHawk video downlink receiver is a module that lets the FAC see what the CAS aircraft's targeting system is seeing.
The Rover is similar in function to the Strike Hawk. It is a ruggedised laptop that displays imagery from CAS aircraft. Due to its size, the Rover is typically used by TACP FACs at HQ or by FACs at a static location e.g. patrol base.
Another item in the FAC toolbox is the laser target designator. These tripod-mounted units are used to 'paint' a target so that CAS aircraft can see the point of aim.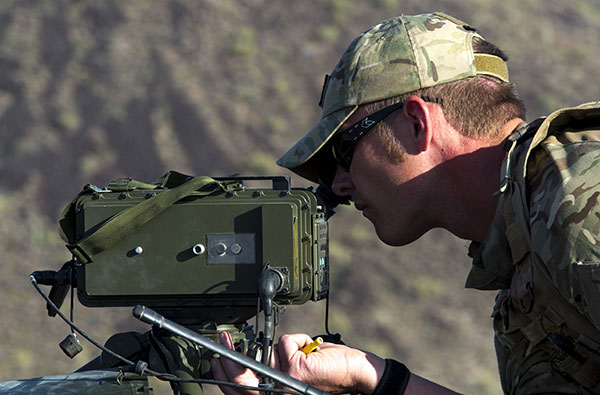 U.S. Air Force photo by Tech. Sgt. Bradley C. Church
---
Forward Air Controller Training
FACs from all service branches and units, including the Special Forces, are trained at the Joint Forward Air Controller Training and Standards Unit (JFACTSU), based at RAF Leeming in North Yorkshire. Experienced soldiers of ranks from Corporal to Captain are eligible to become a FAC.
JFACTSU runs a number of different training courses[5]:
FAC (C) - Lasts for 8 weeks and covers all skills necessary to request, plan, brief, execute and report CAS operations for low and medium/high altitude operations. Training includes computer simulated FAC missions, working on ranges with Hawk aircraft and even riding in the back seat of a Hawk jet on simulated CAS runs. FACs being well versed on the weapon payloads of a range of CAS platforms and the characteristics of all air-to-ground weapons carried by them. They also learn how to coordinate CAS with mortar and artillery fires. Troops who pass the FAC(C) class are then qualified as Forward Air Controllers.

Before deployment, FACs leaving the FAC(C) course typically then undergo a 6-month work-up with their assigned unit.


SupFAC - This supervisory FAC course provides potential TACP personnel with 2 weeks of training in the management of air space and the booking of CAS assets. SupFAC also trains senior FACs to become trainers and Air Weapons Range Safety Officers.


FAC(A) - Trains aircrew of rotary or fixed wing aircraft in airborne forward air control. This includes teaching Army Air Corps (AAC) Apache crews to act as airborne FACs.
---
Recommended Reading:
Fire Strike 7/9

By Paul Grahame & Damien Lewis

The incredible tale of a British Forward Air Controller's war in Afghanistan. A great insight into the FAC role.

Fire Strike 7/9
---
References
---