UKSF To Help Protect Thatcher Funeral
10.04.2013
Elements of United Kingdom Special Forces (UKSF) will be helping to protect Margaret Thatcher's funeral ceremony, it has been reported.
The Sun newspaper reports(1) that troops from the Special Air Service (SAS) and Special Boat Service (SBS) will be deployed to London as part of the biggest security operation in the capital since last summer's Olympic Games.
The Queen and the Duke Of Edinburgh will be attending the service and VIPs from around the world will be converging on London for the ceremony, which is planned for next Wednesday. Given the divisive nature of Thatcher's time in office plus the concentration of VIPs in attendance, a range of security threats give concern to authorities, including attacks from dissident IRA factions and Islamist terror cells and disorder from far-left groups.
The late former prime minister's funeral procession will travel from Westminster to St. Paul's Cathedral, where her funeral service will be held. Around 700 members of the armed services, including Royal Marines, Scots Guards and Welsh Guards, will line the route. Officers from the Met and City of London Police will be out in force. Marksmen from SCO19, the Met's armed response unit, will watch from rooftops, with other SCO19 officers stationed close by. Helicopters will surveil from overhead and sniffer dogs will hunt for explosive devices. While not stated in the Sun report, it is likely that undercover operatives from MI5, Counter Terrorism Command (SO15) and possibly even men and women from the army's Special Reconnaissance Regiment (SRR) will be secreted among the large crowds expected along the route.
According to the Sun, an SAS team will be deployed to the area, ready to respond to any incident. SBS operators will help secure the Thames, a possible access route for terrorists.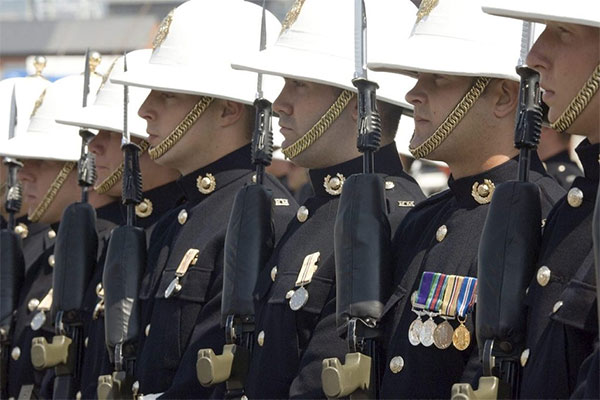 MOD photo by PO(PHOT) STEVE LEWIS | © Crown copyright 2013 | used under
MOD News Licence
more info / further reading: