Honourable Artillery Company
The Honourable Artillery Company (HAC) is the oldest regiment within the British Army. It has a long and distinguished history. The HAC is now a renowned regiment within Britain's Territorial Army (TA). As of September 2014, the HAC is part of the 1st Intelligence Surveillance and Reconnaissance Brigade.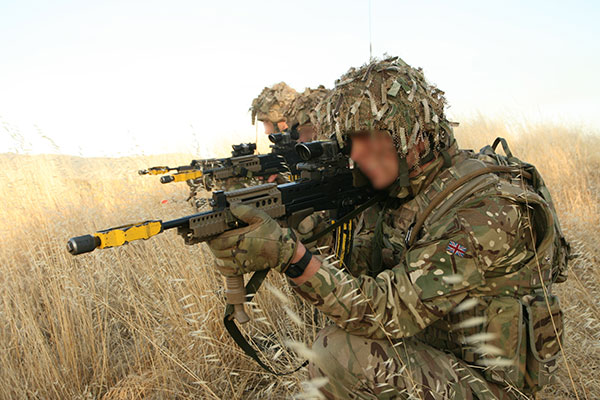 U.S. Army Photo by Capt. Jason Sweeney
The Honourable Artillery Company's main role is one of Surveillance and Target Acquisition (STA). The HAC's STA role is similar to 4/73 Battery of 5 Regiment Royal Artillery (5 Regt RA). In wartime 4/73 Battery integrates into HAC's order of battle. The HAC also fields a battery of 105mm Light Guns and deploys as part of 16 Air Assault Brigade.
The HAC consists of:
One STA patrol squadron, 1 (Special OP) Sqn. This unit is paired with 4/73 Battery and consists of a number of STA patrols. These patrols are small teams of 4-6 men who insert into enemy-held territory and carry ouy static covert surveillance in order to gather intelligence and find targets for deep strike systems such as MLRS artillery and strike aircraft. HAC STA patrols also have a Human Environment Reconnaissance and Analysis (HERA) role.


Two STA squadrons (2 & 3 Sqns). These are paired with P Battery (The Dragon Troop) and 93 (Le Cateau) Battery, 5 Regt RA. Their role is that of ground-based Intelligence, Surveillance, Target Acquisition and Reconnaissance (ISTAR) which includes the use of sensors to detect and monitor enemy movements. The squadrons are also equipped with the Lightweight Counter Mortar Radar for the Counter Indirect Fire role i.e. pinpointing the point of origin of enemy mortar fire.


A Battery (1st City of London) Honourable Artillery Company. The battery reinforces 7th Parachute Regiment Royal Horse Artillery, 16 Air Assault Brigade with a Parachute Gun Troop that includes a number of L118 105mm light guns. Gun Operators with the battery can attempt the All Arms Pre-Parachute Selection (P Company).


Headquarters Squadron. Includes a Medical Wing, CIS Troop (Communications Information Systems) and Corps Of Drums.
HAC STA patrols are trained in long range communications, navigation and target recognition. At least one member of a given patrol will be a fully trained medic.
The HAC also has a ceremonial role, providing Guards of Honour at the Guildhall and Gun Salutes at the Tower of London.
HAC Selection and Training
Selection for the Honourable Artillery Company is open to civilians aged 18-32 (or older for those with previous military experience).
Those without a military background undergo a HAC Recruits' Course that gets them up to speed with basic soldiering skills. The Recruit's course lasts six months (Tuesday evenings, about one weekend a month and a ten-day final exercise).
The HAC Recruit's course tests candidates levels of fitness and comprises lessons in:
survival techniques
weapons drills
basic communications
Those want Patrol Selection Course which comprises:
first aid
advanced navigation
close quarter battle skills
foreign equipment recognition
observation post construction, operation and routine
long range communications
The above training is complemented by a series of tests:
swimming tests
navigation tests
long distance marches over arduous terrain carrying heavy loads
These tests conclude with a 10 day final exercise which tests the recruit's proficiency in the skills acquired.
HAC Signalers go through a similar selection path as the Patrol Squadrons, but only doing a portion of the Patrol Selection Course. They then go on to a Basic Communications Course which comprises:
familiarization with the HAC regiment's communications systems
long-distance High Frequency radio communications - both theory and practice
A final 10 day exam, run in parallel with the Patrol Selection Course finals, tests the recruits acquired skills.
For information on joining the Honourable Artillery Company, see the official web site