UKSF Hunt Bin Laden
15.06.2008
The Times has reported that President Bush has ordered a renewed effort to capture Osama Bin Laden. It is thought that Bush, who is now in his final year as President, would like his legacy to include the capture or killing of the notorious Al Qaeda leader. British Special Forces are said to be taking part in the hunt.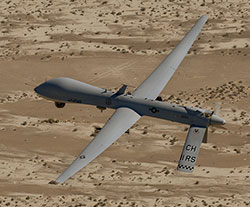 U.S. Air Force photo by Master Sgt. Scott Reed
The Special Boat Service (SBS) and Special Reconnaissance Regiment (SRR) are believed to be working closely with American Delta Force and the Intelligence Support Activity (ISA). The ISA is the US equivalent of Britain's SRR and 18 (UKSF) Signals Regiment.
Recent US air strikes in Pakistan, as well as clashes along the border with Afghanistan, have caused speculation that coalition special operations forces have been active inside Pakistan. The Times now reports that UKSF has been taking part in raids inside Pakistan's Northern frontier, apparently with the backing of the Pakistani leadership.
Get Osama Bin Laden before I leave office, orders George W Bush
(Times Online Report)