Royal Marines Capture Pirate Mothership
21.10.2011
The latest in a series of counter-piracy operations by the Royal Navy and Royal Fleet Auxiliary has taken place off the coast of Somalia. In this most recent incident, a suspected pirate mothership - a hijacked fishing dhow thought to be the launching pad for last week's hijacking of the Italian ship, MV Montecristo - has been raided by Royal Marines and Royal Navy personnel.
On this occasion, on October 14th, forces from HMS Somerset, a Type 23 Frigate and the Royal Fleet Auxiliary ship, RFA Fort Victoria, intercepted a fishing dhow which had been taken over by Somali-based pirates for use as a 'mothership' to launch smaller boats in attacks on merchant shipping in the region.
It is reported that the pirate vessel was located by the Merlin helicopter based on HMS Somerset before being approached by both HMS Somerset and RFA Fort Victoria. The helicopter fired several rounds from its .50 caliber HMG door gun across the pirate ship's bow before a Royal Navy / Royal Marines boarding party from RFA Fort Victoria approached and boarded it. No resistance was offered by the suspected pirates aboard the dhow. 4 suspected pirates were arrested and later handed over to Italian authorities. The dhow's crew, who had been kept as hostages, were allowed to go on their way.
This is the third such action by British maritime forces this month, following on from the recent storming of a hijacked Italian merchant vessel and another operation against a pirate mothership.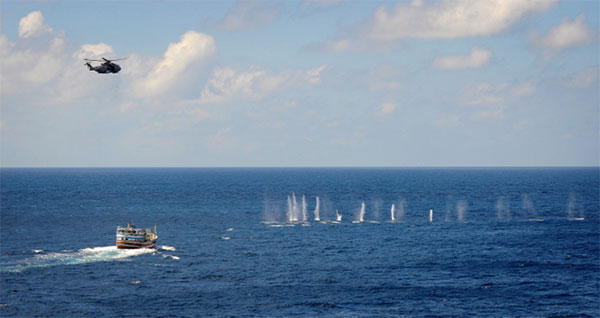 Picture: Leading Airman (Photographer) Dave Jenkins, Crown Copyright/MOD 2011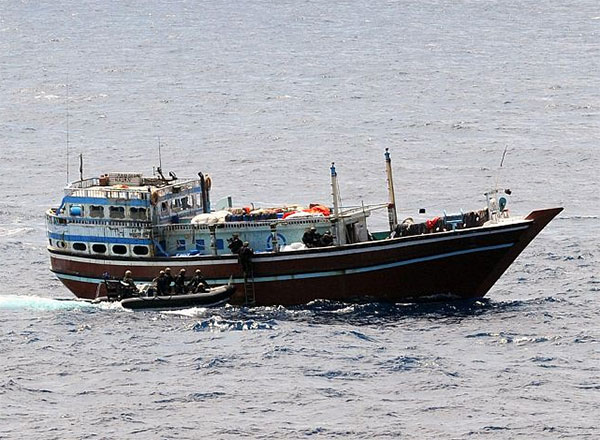 Picture: Leading Airman (Photographer) Dave Jenkins, Crown Copyright/MOD 2011
more info, further reading: