British Special Forces Libyan Mission Revealed In Leaked Memo
29.03.2016
Earlier this year it was rumoured that United Kingdom Special Forces (UKSF) were operating in Libya on an anti-IS mission.[1] This has now been confirmed in a leaked memo about a briefing given to U.S. congressional leaders by King Abdullah of Jordan. [2]
Notes of the January 11th meeting seen by the Guardian show that Jordanian special operations forces were to be embedded with British Special Air Service (SAS) units operating in Libya. It was mentioned that similarities between Jordanian and Libyan slang would allow the Jordanian soldiers to assist the SAS in their mission.
The relevant text of the memo is as follows:
"On Libya His Majesty said he expects a spike in a couple of weeks and Jordanians will be imbedded [sic] with British SAS, as Jordanian slang is similar to Libyan slang."
King Abdullah also revealed that 'British forces' in southern Syria had helped in establishing a mechanised battalion to take on Syrian government forces.
The Jordanian monarch also mentioned concerns over al-Shabaab, the terrorist group based in Somalia. He added : "We have a rapid deployment force that will stand with the British and Kenya and is ready to go over the border [into Somalia]."
British Special Forces have reportedly been operating alongside Kenyan troops in cross-border operations for some time.[3]
Defence analysts, Stratfor recently reported that UK and US special operations forces are active in western Libya, working with militia from Misrata, while French units are working in the east. [4]
Statfor also claimed that UKSF were "escorting MI6 teams to meet with Libyan officials about supplying weapons and training to the Syrian army and to militias against the Islamic State."
The confirmation of British boots on the ground in Libya comes as questions over parliamentary transparency over the role of the SAS and other UKSF units in conflicts such as Libya have been raised.
Angus Robertson of the Scottish National Party recently proposed that UKSF be subject to parliamentary oversight, a request that PM David Cameron refused. In a statement to MPs, Cameron said:
"The work that our special forces do is vital for our country. Like everyone in this country, they are subject to international law, but I do not propose to change the arrangements under which these incredibly brave men work."
On the memo leak, Crispin Blunt, the foreign affairs select committee chair, commented:
"King Abdullah gives a level of insight that we don't get from our own governments. He has given presentations to parliamentarians behind closed doors in the past. We don't get that from our own ministers. When [the foreign office minister] Tobias Ellwood told us about RAF flights over Libya these were plainly in support of special forces missions. But when we asked for details we were told the government doesn't comment on special forces...There is a tendency for the British establishment to work out everything very carefully and then present it to parliament as 'a take it or leave it' choice. And then ministers wonder why they have difficulties in parliament."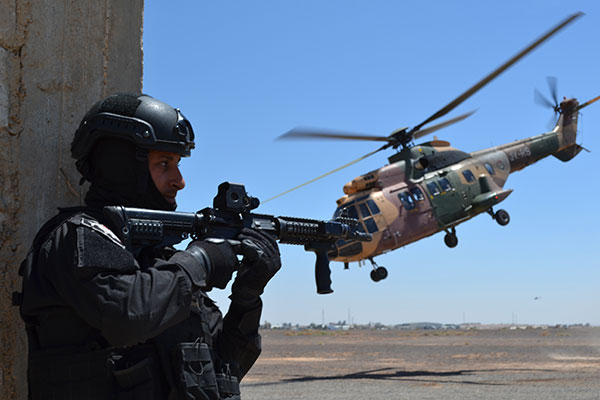 U.S. Air Force photo by Airman 1st Class Danny S. Rangel/Released
more info / further reading