GMG - Grenade MACHINE GUN
The Heckler & Koch GMG is an automatic grenade launcher that has recently (December 06) been deployed with Royal Marines in Afghanistan. The extra firepower of the GMG will give British forces a welcome boost in their fight against the Taliban. The MOD has purchased 40 of the weapon systems.
The GMG fires 40mm high explosive grenades up to 2km at a rate of 340 rpm. The grenades are belt-fed into the GMG from a 32 round box.
The GMG is being deployed mounted on Royal Marines WMIK Land Rovers. At 30kg, the weapon is too heavy to be man-portable but can be mounted on a tripod and fired from fixed positions.
An illuminated reflex optical sight can be fitted to the GMG to allow the operator to acquire targets out to its maximum range. A night-vision scope can also be fitted to the weapon.
The GMG is very similar to the MK19 as used by the SAS. The main difference between the two systems is that the GMG's belt-feed can be configured for both left and right-hand operation.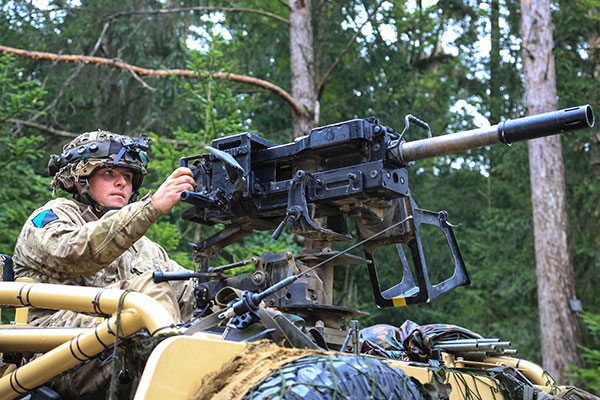 U.S. Army photo by Sgt. Alexandra Hulett/Released