SAS Weapons - MK-19 Grenade Launcher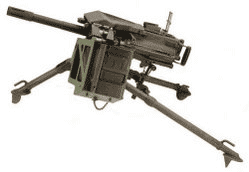 The MK19 is an american-made belt-fed automatic grenade launcher. Firing 40mm grenades up to an effective range of 1.6km, the MK19 can lay down rounds at 60 rounds-per-minute. The grenades fired by the MK19 are devastating when fired against troops and also can penetrate soft-skinned vehicles and light armour (up to 2 inches thick). Such firepower makes the MK19 ideal for special forces operations and the weapon is in service with US Special Operations forces and is a favourite of the British SAS.
The MK19 can be mounted on a tripod and fired from the ground. The Special Air Service prefer to mount the MK19 onto their Land Rovers. The first reported use of the MK19 by the SAS was during the first Gulf War in 1991. Each SAS Land Rover fighting column had at least one vehicle fitted with a MK19 and the weapon proved itself to be invaluable in combat.