Minigun
The Minigun is electrically-operated multi-barreled machine gun with a high rate of fire that is carried by some British Special Forces flights, such as RAF Squadron 7 Chinook helicopters.
Miniguns achieve their high rate of fire (2,000-4,000 rpm) by firing the rounds through multiple barrels (6) that revolve around and align to the chamber - the so-called 'gatling gun' design. The barrels are revolved by an electric motor. The M134 minigun uses 7.62x51mm ammunition and are usually pintle-mounted to helicopter doorways or firing ports.
The high rate of fire makes the minigun an ideal weapon for close fire support and landing zone suppression. Tracer rounds will usually be distributed throughout the linked ammunition feed in order to help the operator walk the gunfire onto the target.
UK Special Forces flights have been known to fly Chinooks armed with miniguns since at least the 1991 Gulf War. RAF Squadron 7 Chinooks usually have a minigun mounted at the forward firing ports, one each side. It's been reported that Lynx helicopters, flying in support of the SAS/SBS during Operation Barras were fitted with miniguns.
Miniguns also have a naval application and, ever since the Al-Qaeda attack on the USS Cole, many navies, including the British, have fitted miniguns to ship's railings to protect against attacks from small boats (see bottom image).
M134 Minigun Specifications
| | |
| --- | --- |
| Manufacturer | General Electric |
| Ammunition | 7.62mmx51mm ball/tracer |
| # barrels | 6 |
| cyclic rate of fire | 2000-4000 rpm (user selected) |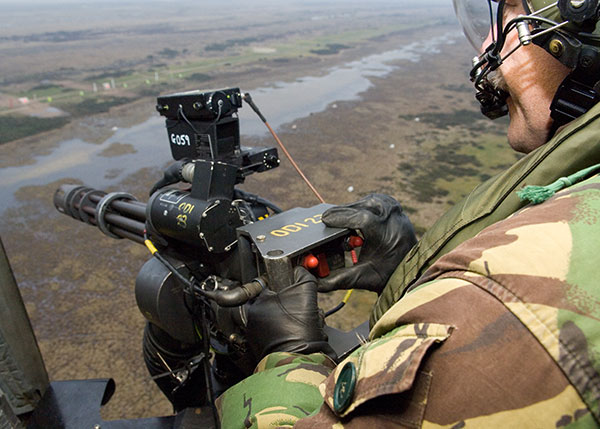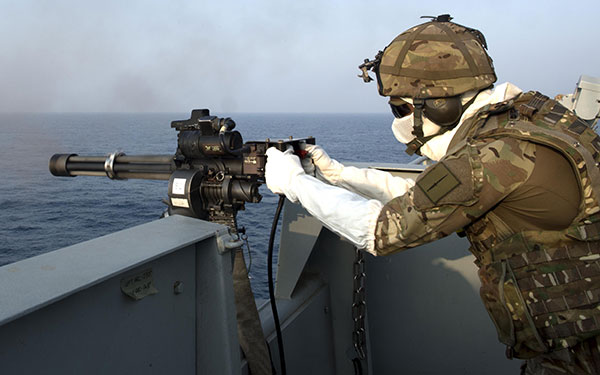 U.S. Navy photo by Mass Communication Specialist 1st Class Ace Rheaume/Released
« weapons index