Diemaco C7 Assault Rifle
The Diemaco C7 is an assault rifle that was used by the Pathfinder Platoon and Brigade Patrol Troop (BPT). The C7 and C7A1 variant were also used by British Special Forces.
The C7 is a close copy of the M16A2, the rifle developed to replace the M16A1 in the United States military. Canadian arms company Diemaco (now Colt Canada) developed the rifle for the Canadian military. Small improvements to the original design include a heavier hammer-forged barrel. The C7 fires 5.56x45mm NATO rounds from 30-round magazines in either semi or fully automatic mode (unlike the M16A2, which was setup with a semi or 3-round burst trigger group).
The C7 was employed by the Pathfinders and BPT between the late-1990s until the mid 2000s. The lack of confidence in the standard issue SA80A1 rifle led these 2 elite units to opt for the C7 which was considered more reliable in the field. The C7 could also be fitted with a battle-proven grenade launcher (the M203), something the SA80a1 could not boast. The M203 gave small patrols the extra clout to fight their way out of trouble, making it ideal for the high risk missions performed by the Pathfinders and BPT.
The C7 eventually fell out of PF Platoon and BPT service due to wear and tear. The newly-upgraded SA80A2 addressed some of the reliability issues of the A1 and and so when their C7s were used up they reverted back to the SA80 for a period. The Pathfinders and the BPT (later known as the Surveillance Reconnaissance Squadron (SRS)) would eventually move away from the SA80 again, switching to the L119A1 carbine.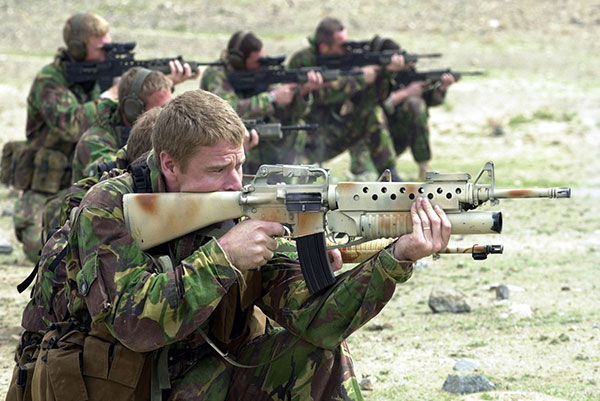 ---
C7 / C7A1 In Use With British Special Forces
The Special Air Service (SAS) and Special Boat Service (SBS) eventually replaced their ageing fleets of M16 rifles with the C7, and, later, the A1 version of the weapon. The C7A1 replaced the fixed rear sight/carrying handle with a rail system that enables the mounting of various scopes.
UKSF adopted the C7A1 at the same time as the L119A1 Special Forces Individual Weapon (SFIW), itself derived from the Diemaco C8SFW carbine. Both were put forward by Diemaco for trials held by UKSF to select a new standard Special Forces Individual Weapon (SFIW). The C8SFW carbine won the contract, beating out the Heckler & Koch G36K and the Sig Sauer SIG 551. Despite UKSF adopting the C8SFW carbine - offically designated as the L119A1 - as its standard weapon, a number of C7A1s were purchased for UKSF use.[1]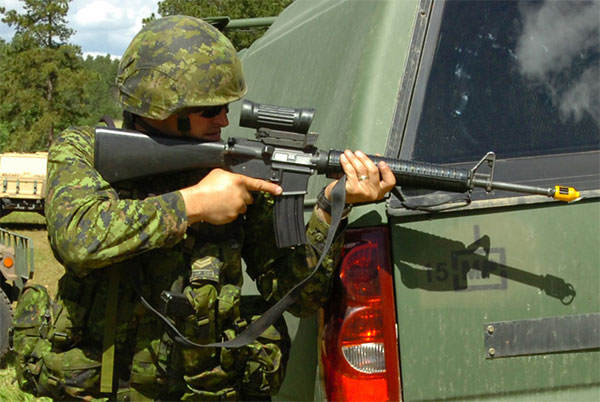 More Info / Further Reading