Image Intensification Night Vision Sights
British military units use a number of image intensification (II) night vision sights mounted on weapon systems for both target engagement and surveillance. These devices work by amplifying ambient light to allow for vision in low light conditions. Because of there need for ambient light to function, these devices are not effective in complete darkness.
Common Weapon Sight (CWS)
The Common Weapon Sight (CWS) is the British military designation for the KITE sight, an image-intensification night vision scope manufactured by Qioptiq (formerly Pilkington).
The CWS is designed for short to medium range use and can be mounted on various weapons such as the SA80A2/A3 rifle and light machine gun (LMG).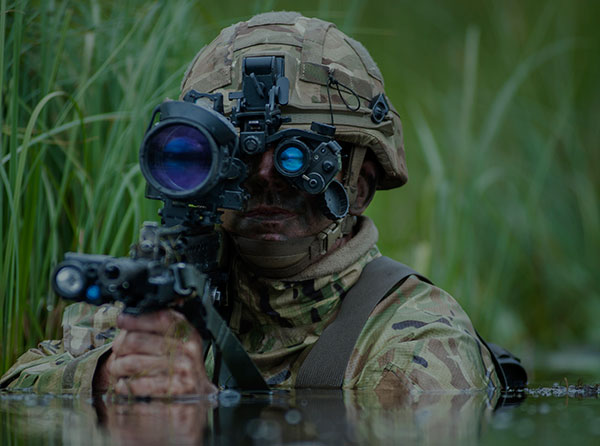 The CWS / KITE features a 4x magnification and 9 degree field of view. It can identify a standing man target out to 500m under starlight, although its effective engagement range is closer to 200 meters. While normally mounted on a weapon, the CWS can also be used as a hand-held surveillance tool.
CWS Specs
Magnification: x4
Field of View: 9°
Weight: 1000g (Excluding Weapon bracket and batteries
Length: 210mm
Height: 80mm
Width: 105mm
Power Supply: 2 x 1.5V AA batteries
Eyepiece Dioptre: Fixed at -1±0.35 dioptre, adjustable at +2 -6.00 dioptre
Focus Range: 15m to infinity
Eye Relief: 30mm 
Range (typical): Recognition of standing man at 500M in starlight (10-3) LUX.
---
MAXIKITE 2
The big brother of the CWS, the MAXIKITE 2 is designed for medium to long range engagements and for mounting on General Purpose Machine Guns (GPMG) and Heavy Machine Guns (HMG). It can also be mounted on the L86A2 LSW, in the sharpshooter role.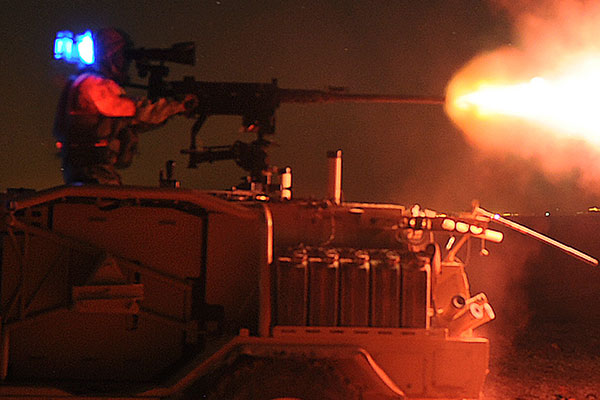 The sight is capable of recognising a standing man out to 750 meters under starlight. The system runs for 70 hours of continous use on 2 1.5v AA batteries.
Like the CWS, the Maxikite 2 is augmented with a CQB red dot scope.
Maxikite 2 Specs
Magnification: x6 Field of View: 5.5°
Weight: 1450g (Excluding Weapon bracket and batteries)
Length: 260mm
Height: 95mm
Width: 100mm
Power Supply: 2 x 1.5V AA Batteries
Eyepiece dioptre: Fixed: -1 ±0.35 dioptre
Adjustable: +2 -6 dioptre
Focus Range: 25mm to infinity
Eye Relief: 30mm
Range (typical): Recognition of standing man at 750m in starlight (10-3)LUX.
Supplied with: Transit case, carrying pouch, lens cloth, user handbook, spare batteries, ND Filter and zeroing screwdriver.
---
Magnum Universal Night Sight (MUNS)
The MilSight S135 Magnum Universal Night Sight (MUNS) is a 'clip on' image intensification scope that mounts in tandem with a weapon's existing daylight optics to provide low-light vision capability. It can mount on any sufficently long enough MIL-STD-1913 rail system. In British military use it is typically used with the L129A1 Sharpshooter rifle.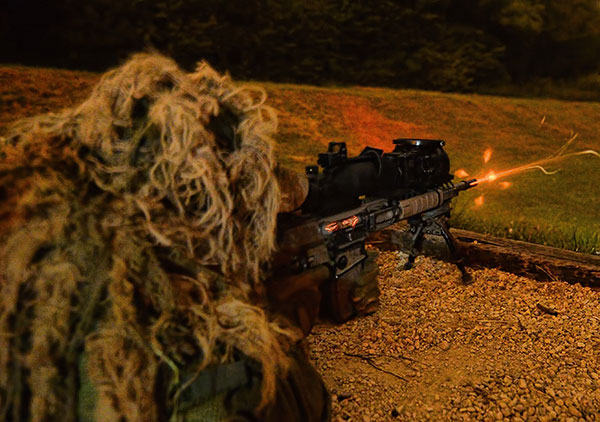 MilSight S135 MUNS Specs
SYSTEM CHARACTERISTICS
Magnification Unity
Optimum Dayscope Magnification 3X to 20X
Focus Range 15 m to Infinity
Field of View 10°
I2 TUBE FEATURES
Tube Type Gen III, Autogated
Tube Color Green Phosphor
Tube Performance 1800 FOM Typical
Resolution 64 Line Pair
BORESIGHT CHARACTERISTICS
Accuracy Factory Aligned to 1 MOA or Better
Adjustments None
Repeatability Within 1 MOA
PHYSICAL CHARACTERISTICS
Shock Mitigation System™ (SMS™) .50 Caliber BMG Qualified
Operating Temperature -30° to +60° C
Submersion 33 ft.
Interface (to MIL-STD 1913) LaRue Adjustable Double Locking Lever Mount
DIMENSIONS, WEIGHT & MOUNTING
Interface Double Locking Levers (MIL-STD 1913, Picatinny Rail)
Length 8.7 in
Weight (w/o batteries) 50 oz
Max Height Above Rail 3.75 in
INTERFACES
Controls On/Off/Gain, Focus
Power 2 AA
OPTICAL CHARACTERISTICS
Objective Lens Focal Length 92 mm
Objective Lens f/Number f/1.0
Output Optic Exit Pupil Diameter 40 mm
PERFORMANCE OPTIONS*
Tube Color Green or White Phosphor
Available FOM* 2000, 2200, >2200
Resolution 72 line pair/ mm
SIMRAD Night Vision Scopes
The SIMRAD range of night vison scopes are mounted atop the day scope of a sniper rifle (L96, L118, L115). The image from the SIMRAD's image intensifying tube is directed through a periscope that positions in front of the day scope. Models employed by British forces have included the K203D and K250.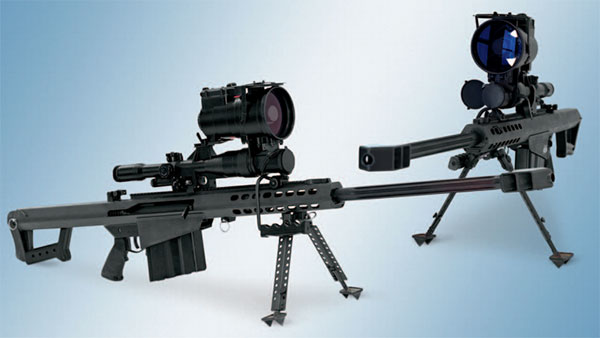 image: Rheinmetall Defence
---
SIMRAD Specs
KN200
OPTICAL CHARACTERISTICS
Magnification 1x
Focus Range 25 m to Infinity
Field of View 10°
ELECTRICAL CHARACTERISTICS
Batteries 2 x 1.5V AA cells
Battery life >80h at 20°C
PHYSICAL CHARACTERISTICS
Weight (incl. brackets and batteries) 1kg
Dimensions (w x h x l) 127 x 192 x 220mm
Operating temperature –40°C to +50°C
Storing temperature –40°C to +65°C
Repeatability Within 1 MOA
KN250
OPTICAL CHARACTERISTICS
Magnification 1x
Focus Range 25 m to Infinity
Field of View 12°
ELECTRICAL CHARACTERISTICS
Batteries 2 x 1.5V AA cells
Battery life >80h at 20°C
PHYSICAL CHARACTERISTICS
Weight (incl. brackets and batteries) 1kg
Dimensions (w x h x l) 107 x 142 x 187mm
Operating temperature –40°C to +50°C
Storing temperature –40°C to +65°C
Repeatability Within 1 MOA
---