4 PARA
The 4th Battalion, the Parachute Regiment (4 PARA) is a Territorial unit staffed by civilians. 4 PARA act as reserves for 2 and 3 PARA, augmenting them at Company level (exercises) and on an individual level (operations).
4 PARA consists of around 336 ranks and is made up of Companies (Coys) based around the United Kingdom. Each Company consists of 2 rifle platoons and a specialist platoon.
10 Coy (London)

Rifle Platoon
Rifle Platoon
Mortar Platoon

12 Coy (Pudsey)

Rifle Platoon
Rifle Platoon
Assault Pioneer Platoon

15 Coy (Scotland)

Rifle Platoon
Rifle Platoon
Machine Gun Platoon
Battalion Headquarters (HQ Coy) is based at Pudsey.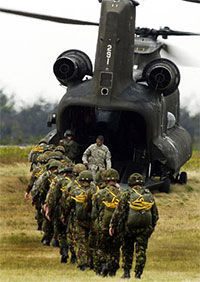 Recent Operations
112 men from 4 PARA augmented 1 and 3 PARA during Operation Telic, Iraq 2003. Reserves from 4 PARA have joined their regular counterparts in previous operations in Sierra Leone, Bosnia, Kosovo and Northern Ireland.
4 PARA Training
4 PARA selection is open to UK residents aged 18-32 and is dependant on passing a medical exam. Since they must be able to operate alongside their regular counterparts, the men of 4 PARA are fully trained paratroopers and pass through the following training program
Recruit Training
Spread over 8 weekends and 1 evening per week and tests fitness and covers basic soldiering skills.
Includes
TA Combat Infantryman's Course (CIC)
(2 weeks) conducted at Catterick training center during which soldiering skills are honed and built upon.
P Company
P Coy, the Pre Parachute Selection must be passed by all UK airborne forces. Upon successful completion of P Coy, the recruit can proudly wear the Red Beret. P Coy consists of a series of intense tests designed to test physical and mental determination.

get an affordable info pack on passing fitness tests


Parachute Training
A series of 7 parachute jumps over a 2 week course run by the RAF. Once 'PARA Trained', the recruit can wear the coveted PARA Wings, ('British Military Parachute Wings'.), a patch worn on the shoulder.

Specialist Training
Further qualifications can be earned once in the Battalion:

Officer Selection
Signaler
Medic
HGV driver
Machine Gunner
Sniper / Recce
Mortar operator
click here for the official 4 PARA web site