UKSF Aviation
Air support for UKSF operations is provided by some highly trained pilots from all branches of the UK military.
ELITE AVIATION PHOTO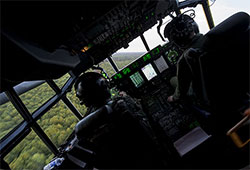 7 SQUADRON RAF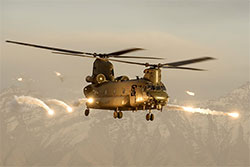 COMMANDO SEA KINGS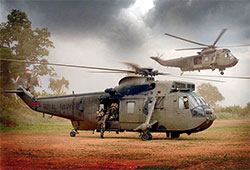 RAF Special Forces Flights
RAF Special Forces are the cream of the RAF, tasked with flying UKSF forces to and from battle. Trained to penetrate deep behind enemy lines, RAF Special Forces flights operate both fixed-wing and rotary-wing aircraft.
---
Army Air Corps (AAC)
Army pilots fly battlefield insertion/extraction and surveillance operations for UKSF. They also provide a covert transport facility for the Special Air Service.
7 Squadron RAF & 658 Squadron AAC are combined into the Joint Special Forces Aviation Wing (JSFAW)
---
Royal Navy
Commando Helicopter Force
Top pilots from the Royal Navy's Fleet Air Arm support Royal Marines, SBS and other UKSF operations.
815 Naval Air Squadron
815 NAS Maritime Interdiction Flight are on standby to support UKSF Maritime Counter Terrorism (MCT).
771 Naval Air Squadron
771 NAS carried out Search and Rescue (SAR) and Maritime Counter Terrorism (MCT) operations.
---
Other Aviation Support
UKSF, as well as the Paras and Royal Marines may also be supported by any of the many squadrons in the RAF, AAC or Fleet Air Arm. For instance, it is believed that 4 RAF Puma HC1s, operated by No 33 & No 230 Squadrons RAF, supported SAS Task Force Black in Iraq.
---
It is also believed that UK Special Forces in Afghanistan were sometimes supported by British-operated MI-8/MI-17 helicopters. These Russian-built helicopters were fitted with western radio gear and countermeasure systems, additional armour and GPMGs mounted in the cabin doors. UKSF used the MI-17s for several reasons: there was a shortage of helicopters capable of operating across the mountains of Afghanistan, the ubiquitous MI-17 airframe was less obviously Western in appearance than say, a Chinook, and spare parts were easy to find in the region.
---
As well as operating the C-130J Hercules, the RAF is also developing the tactical role for its C-17a globemaster III and A400M Atlas airlifters.

more info:
---