Royal Marines
The Royal Marines are the amphibious commando force of the Royal Navy. In recent times, the Royal Marine Commandos have been deployed to Afghanistan and played a major part in the invasion of Iraq in 2003.
Elite UK Force's section on the Royal Marines features:
3 Commando Brigade
The Royal Marines (or 'Bootnecks' as they call themselves), in the form of 3 Commando Brigade, are a key element of the UK's Rapid Reaction Force.
The Commandos
The primary fighting elements of the Royal Marines are the battalion-sized Commando units.
Each Commando is organised into 6 companies. Each company is made up of platoon-sized Troops: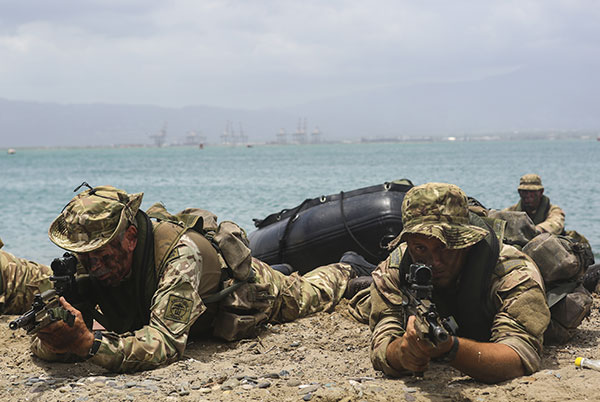 U.S. Marine Corps photo by Cpl. Samuel Guerra/Released
42 Commando - Maritime Operations Commando
42 Commando are a specialist maritime operations unit. Roles include force protection, personnel recovery and maritime interdiction operations (MIOPS).
more info: 42 Commando
Juliet Company 42 Commando deploys specialist boarding and sniper teams:
Royal Marines Operational History
The Royal Marines have a long history, beginning as ship-borne troops, evolving into Commandos during World War 2, to the elite fighting force of today.
more info : Royal Marines Operations
Special Forces Support
1 company (F Coy) of Royal Marines are assigned to the Special Forces Support Group (SFSG).
Mountain Leaders
Each commando battalion contains specialists in mountain and arctic warfare, known as Mountain Leaders (MLs). Mountain Leaders are proficient in cliff assaults, high altitude warfare and skiing.

more info : Mountain Leaders
Vehicles
The Royal Marines employ some specialised vehicles. These include:
Watercraft
The Royal Marines operate a range of watercraft:
Royal Marines Selection & Training
The Royal Marines go through extensive training. An initial selection period is followed by a 32 week training program.
more info : initial Royal Marines selection »
want to pass selection for the Royal Marines? Click here to find out how »
Royal Marines Special Units
There are several specialised RM sub units :
Fleet Protection Group Royal Marines

A special cadre of Royal Marines tasked with fleet and nuclear security.

more info : Fleet Protection Group »

Brigade Patrol Troop (Brigade Reconnaissance Force)

3 Commando Brigade's elite reconnaissance force.

more info : Brigade Patrol Troop »

The Special Boat Service (SBS)

Drawn mostly from RM ranks, but technically under the command of the Directorate of Special Forces and part of UKSF, the SBS is a special forces unit on a par with the army's SAS.

Roles of the SBS include Maritime Counter-Terrorism, beach and shore reconnaissance, drug smuggling interdiction and behind the lines reconnaissance and sabotage missions.

more info : Special Boat Service »
Royal Marines Reserves (RMR)
The regular Commandos are augmented by fully trained civlian volunteers from 5 RMR units
more info : Royal Marines Reserves »
Other Royal Marines Units