43 Commando Get New Patrol Boats
07.03.2013
43 Commando Fleet Protection Group at Her Majesty's Naval Base Clyde (HMNB Clyde) took delivery of 2 new Island Class patrol boats this week.
43 Commando patrol the waters of Gare Loch, Loch Long and on the Clyde, as part of their role in guarding the Trident nuclear missile submarines based at HMNB Clyde. This role includes armed escort of subs in and out of their base at Faslane. Royal Marine boats employed in this role include the Offshore Raider (ORC) and now, the new Island Class vessels.
The new patrol boats, named "Mull" and "Rona" are former Ministry Of Defence Police boats that have been refurbished and adapted for service with the Royal Marines.
Modifications include reworking the decks, an armoured cabin and a number of new weapons mounts. The Island Class can be armed with General Purpose Machine Gun (GPMG), Heavy Machine Gun (HMG) and Grenade Machine Gun (GMG).
Other improvements to the vessels include a new communications fitment. Other systems on board the vessel include a stablised night-vision (low-light and infrared cameras) surveillance system and a remote-controlled spotlight. Navigation systems include a radar, GPS and satellite compass system.
For crews patrolling in the cold and wet conditions typical of the area, the enclosed, heated cabin is likely the most welcome feature of the new craft.
The Island Class boats are manufactured by Holyhead Marine of Anglesey.
The MoD Police (MDP) operate a fleet of patrol vessels, including Island Class, to patrol Royal Navy bases at Faslane, Devenport and Portsmouth.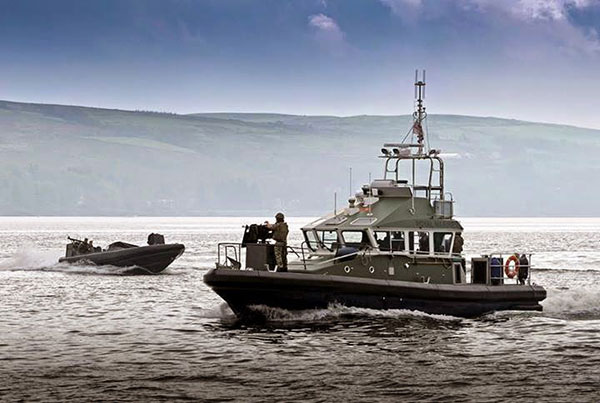 MOD CPOA(Phot) Thomas McDonald | © Crown copyright 2014
Island Class Specifications (based on Police variant)
| | |
| --- | --- |
| length | 14.9 m |
| width | 4.6 m |
| displacement | 19.9 tonnes |
| draught (fully loaded) | 0.9 m |
| engines | Twin Caterpillar C18 715 BHP @ 2200 RPM |
| propulsion | Rolls Royce FF375 Waterjets |
| maximum speed | 32 kts |
| construction material | Glass Reinforced Plastic (fiberglass) |
more info / further reading: