Ministry Of Defence Police
The Ministry Of Defence Police (MDP) is a civilian police force that polices MOD establishments. All MDP Police Officers are trained in the use of firearms and are usually armed.
The MDP consists of 2 main divisions:
Nuclear Division
Territorial Division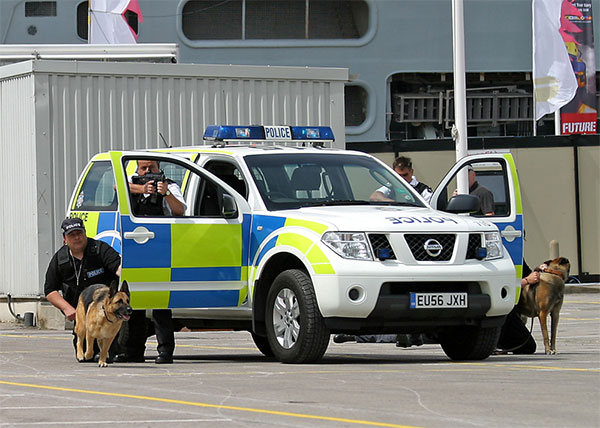 photo by Bellerophon | public domain image
MDP Weapons
Most MDP officers are armed with the Heckler and Koch (H&K) MP7, a semi-automatic 4.6mm personal defence weapon (PDW). Depending on role, others may be armed with a SA80A2 rifle, Colt Canada C8 rifle, L129A1 (LM7) rifle, Sig Sauer P229 pistol, X26 Taser and H&K AEP Launcher.[1]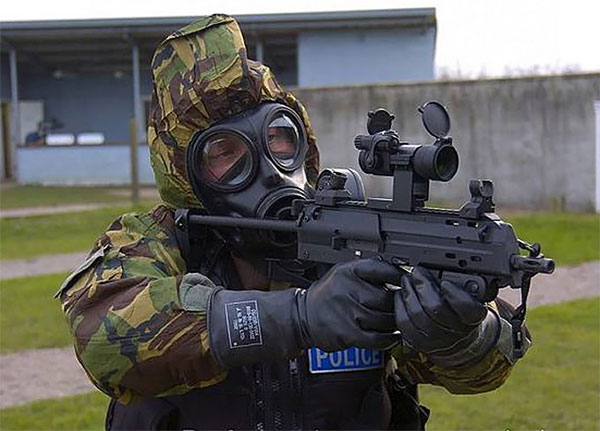 MDP Specialist Units
One of the MDP's roles is protecting the United Kingdom's nuclear deterrent. This includes standing tactical teams that guard establishments that make, store and decommission nuclear warheads, armed convoys that move nuclear weapons on road journeys and a marine unit that protects Trident submarines.
Tactical Support Group (TSG)
The Tactical Support Group provides a dedicated specialist firearms capability for Atomic Weapons Establishments (AWE) at Aldermaston and Burghfield. Specialist Firearms Officers (SFO) stand ready to provide an emergency armed response to any threat against the nuclear weapons held at these establishments. TSG training includes hostage rescue, close quarters battle (CQB) and the recapture of stolen nuclear materials.
Special Escort Group (SEG)
The Special Escort Group provides armed protection for the transport of nuclear materials around the United Kingdom. In this role, the SEG works closely with other agencies, including Royal Marines from 43 Commando Fleet Protection Group. Nuclear convoys typically consists of one or more unmarked articulated lorries carrying the sensitive materials, escorted by MDP vehicles, military and other police vehicles.
Several SEG convoys can be seen on Youtube. For example: Stirling Nuke Convoy Passage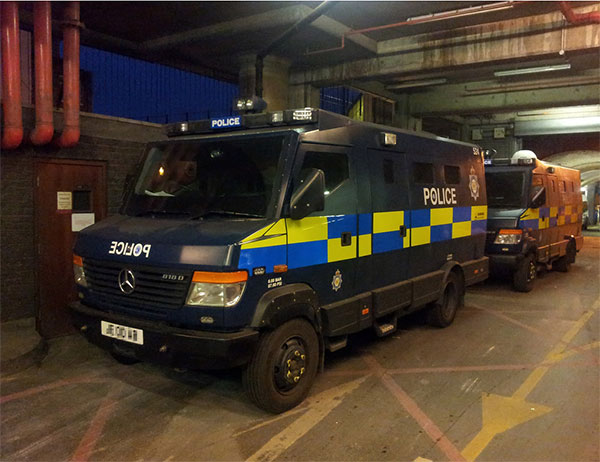 Marine Units
The MDP operates a sizable fleet of patrol vessels which protect Royal Navy bases. This includes Marine Unit Clyde, which patrols Her Majesty's Naval Base, Clyde and escorts Trident submarines in and out of port.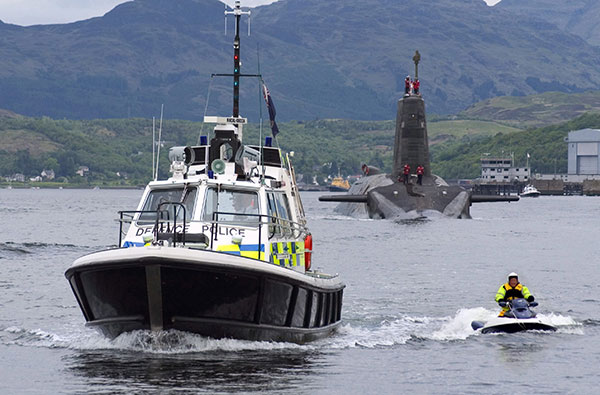 ---
---