651 Squadron Army air Corps
651 Squadron are an Army Air Corps (AAC) squadron that operate fixed wing aircraft in manned aerial surveillance missions, including in support of UKSF.
651 Sqn is part of 5 Regiment AAC and is based at Joint Helicopter Command Flying Station, Aldergrove, Northern Ireland (formerly RAF Aldergrove). The squadron previously flew helicopters, including Lynx and Apache, before it was disbanded in 2003.
In 2006, 651 Sqn was reformed and joined the Joint Special Forces Aviation Wing (JSFAW) in order to provide support to UKSF operations in Iraq, and later, Afghanistan. It would now appear, however, that 651 Sqn is no longer in the JSFAW.
The squadron flies Defender AL1, Defender AL2 and older Islander AL1 turboprop aircraft. It also operates the Defender T3 trainer.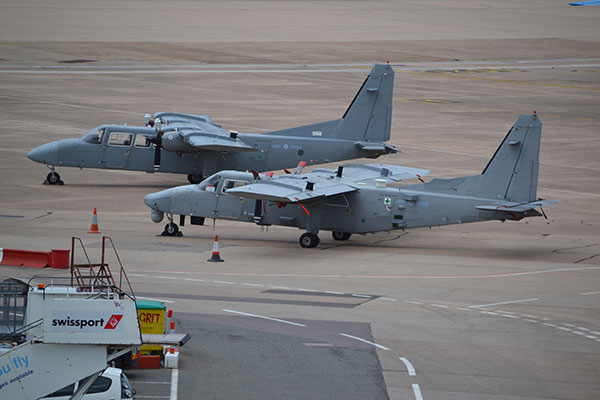 651 Squadron Role
When in the JSFAW, 651 Sqn provided ISTAR (Intelligence, Surveillance, Target Acquisition, and Reconnaissance) support to UKSF operations in both Iraq and Afghanistan. As reported in the press, based out of Basra and Al Amara, Iraq, 651 Sqn's Defenders monitored movements of insurgents along routes into the capital. It's likely that such operations involved close coordination with UKSF ground units. It's also likely that 651 Sqn supported SAS Task Force Black which operated throughout Iraq.
651 Squadron may also provide ISTAR support for domestic security operations. For instance, 651 Sqn Defenders flew patrols over London during the 2012 Olympic Games.
Defender AL 2
The squadron initially flew Defender AL1s in 2003. The aircraft were brought in as an urgent operation requirement (UOR) for use in Iraq. A number of AL1 aircraft were were upgraded to AL2 standard in 2008. More AL2 aircfaft have since been procured.
The Defender, known commerically as the Britten Norman BN-2T-4S Defender 4000, is a twin-engine, fixed wing turboprop aircraft that can be fitted with an array of sophisticated surveillance equipment such as:
low light level television (llltv) or infrared camera fitted in a turret mounted under the Defender's nose
door-mounted and floor-mounted cameras
radars and cameras can be mounted on wing hardpoints
COMINT (COMmunications INTelligence) gear for listening in on radio signals
When flying over hostile territory, the Defender may carry infrared jammers and other defensive systems in pods under the wings in order to defend against surface-to-air missiles.
The Defender is powered by 2 Rolls-Royce 250-17F/1 turboprops.
Defender Performance
3,500lbs of surveillance equipment
8 hours endurance
can patrol up to 150nm of border per flying hour
day/night all-weather operation
can operate at low-level and up to 25,000ft
loiter/patrol speed 60-160kts
can operate on short, rough airstrips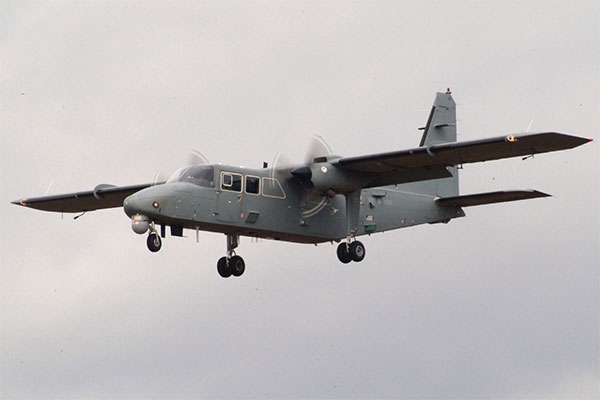 Islander AL1
In service with the AAC since 1989, the Britten Norman BN-2T Islander is a twin-engined turboprop fixed wing manned surveillance platform. It replaced the prevously-used Beaver platform and was used extensively in Northern Ireland. They were flown by No. 1 Flight, AAC out of RAF Aldergrove. 1 Flight eventually merged with 651 Squadron, adding the Islanders to the squadron's inventory.