Specialist Protection (SO1)
The Specialist Protection Branch of the Metropolitan Police Service (MPS) Protection Command provides armed protection for the current British Prime Minister, along with former Prime Ministers.
SO1 Protection Officers also provide close protection for Ambassadors and other VIPs believed to be under a specific threat.
It is believed that SO1 Protection Officers are routinely armed with Glock 17 or Glock 26 9mm pistols. The Glock 26 is a sub-compact version of the Glock 17 and is reportedly used by female SO1 officers.[1]
Specialist Protection (SO1) - Incidents
There have been several incidents regarding S01 that made the news:
---
Prime Ministerial Car
The Prime Minister's official vehicle is the Jaguar XJ Sentinel. The MPS maintains a small pool of these vehicles for use by the PM. They are driven by SO1 Protection Drivers, skilled in protection convoy, anti-hijack and evasive driving skills.
The cars are custom-built versions of the retail luxury car, with security features added to protect the occupants from a terrorist attack. The cabin is lined with titanium and kevlar armour. A steel plate protects the base of the car against IEDs planted in the road while the windows are made from triple-glazed polycarbonate, toughened, bulletproof glass. The cabin is sealed against chemical attack and has its own independent oxygen supply. A number of firing ports are built into the vehicle which allow SO1 officers inside to fire at targets without having to get out or wind down any windows. The modified Jaguar drives on run-flat tyres and has a secure communications fitment. When moving through traffic, the Jaguar can sound a siren and show flashing blue lights front and back. The Sentinel's 5.0-litre supercharged petrol engine produces 503 brake horse power.[2]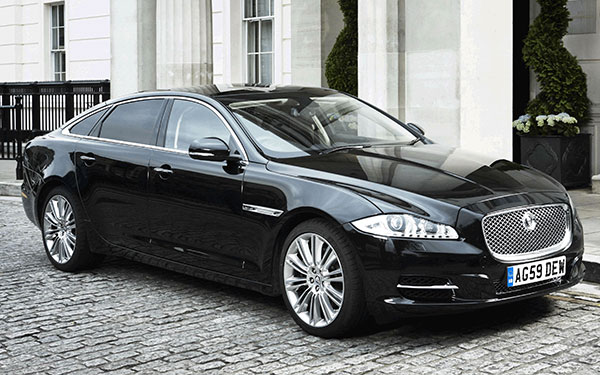 The PM's motorcade is usually led by the Jaguar, with a backup team in at least 1 other vehicle - typically a Land Rover Discovery of Range Rover. On some occasions, motorcycle outriders from SO14 Special Escort Group (SEG) may escort the Prime Minister's convoy through the traffic (examples in video linked below).
related items:
---
---