RAF Special Forces C4 / C5 Hercules
47 Squadron Royal Air Force (47 Sqn RAF) fly various models of Hercules transport planes on special operations.
The squadron flies the baseline C-130J - designated in RAF service as the C5 -and the C-30J-30, a version with a longer fuselage, - designated as the C4.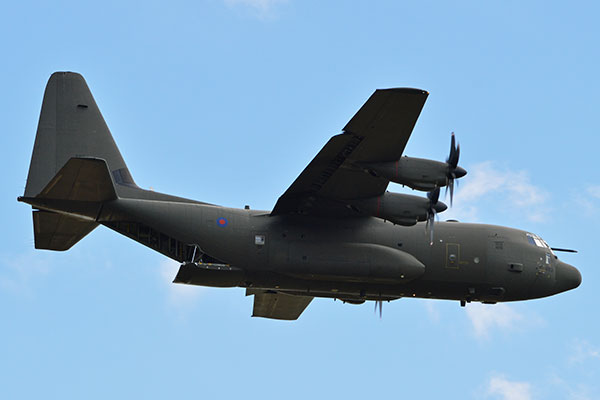 47 Sqn previously flew C1, C3 and C3a Hercules in the special operations role.
The C4 / C5 Hercules design has the following improvements over the aircraft previously flown by 47 Sqn:
Allison AE turboprops + Dowty Aerospace six-bladed composite propellers
- more powerful engines and more efficient props create an improved performance when taking off and a better fuel efficiency, negating the need for external fuel tanks
Digital Glass Cockpit

4x multifunction LCD displays units
2x holographic Head Up Displays (HUD)
automatic flight control system
autothrottle
head down display
traffic collision avoidance system
ground collision avoidance system
compatible with night visions goggles (NVGs)

Lower operating costs

lower maintenance costs
less manpower costs (2-less crew needed)

Improved overall performance

35% greater range
42% higher cruising ceiling
59% decrease in time-to-climb
21% increase in maximum speed
41% decrease in take-off run
The C4 model is a 'stretched' version, with a 15ft longer fuselage,. Due to their increased cargo-carrying capacity, the C4s are said to be the preferred variant for special operations.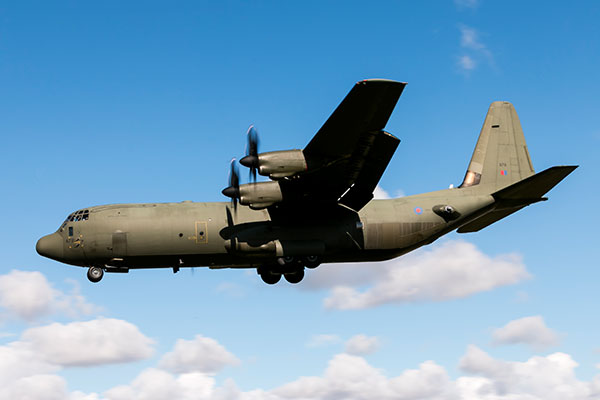 RAF C4 / C5 Hercules are fitted with a defensive aids sub-system (DASS) as standard, although it is not as effective as the special kit previously carried by SF-equipped C1, C3 and C3a aircraft. Specifics of the DASS fitted to any Special Forces-equipped C5 / C4 aircraft are hard to come by but some have speculated they would be similar to Special Forces C-130K fitments:
AN/AAQ-24(V) Nemesis directed IR countermeasures (DIRCM)
AN/AAR-47 electro-optical missile warning system

AN/APR-39A Radar Warning Receivers
3x AN/ALE-40 chaff/flare dispensers on either side of the lower nose
note: when 47 Squadron were tasked with evacuating British nationals from Libya in 2011, at least one of the aircraft used was a Hercules C4. Photographs of the aircraft showed the tell-tale exterior components of the AN/AAQ-24(V) Nemesis DIRCM system.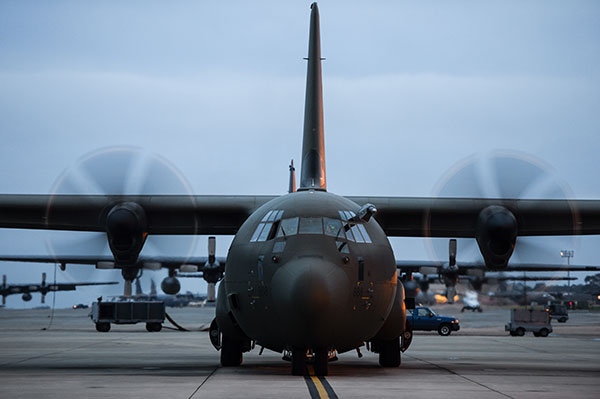 U.S. Air Force photo by Tech. Sgt. Joshua J. Garcia /Released
C-130J Hercules Specifications
Crew
3 - 2 pilots and a loadmaster
Cargo capacity
62 parachutists (C5)
92 parachutists (C4)
5 freight pallets (C5)
7 freight pallets (C4)
Maximum speed
645 kph
Range
2,835nm
Max takeoff weight
79,545 kg
Defences
DASS defensive aids sub-system
Armament
none