RAF Special Forces C-130K - Hercules
47 Squadron Royal Air Force (RAF) Special Forces flight operated C-130K Hercules transport aircraft in support of UKSF operations.
The C-130K Hercules was a 4-engine turbo-prop cargo plane manufactured by American defence contractor, Lockheed Martin. It has seen service as a tactical air lifter in many militaries around the world, several of which, including the RAF and United States Air Force, fly the aircraft in the special operations role.
Early Special Forces (SF) C-130Ks flown by 47 Sqn were virtually no different than the rest of the RAF Hercules fleet. Over time, SF Flight Hercules had various upgrades to their systems in terms of threat detection, countermeasures and secure communications.
Countermeasure systems aboard SF Hercules have included:
AN/AAQ-24(V) Nemesis directed IR countermeasures (DIRCM)
AN/AAR-47 electro-optical missile warning system

AN/APR-39A Radar Warning Receivers
3x AN/ALE-40 chaff/flare dispensors on either side of the lower nose (C3a variants)
Other SF Hercules avionics included:
Honeywell 764G GPS/INS navigations system
QinetiW advanced mission computer
Flat Panel avionics displays
Goodrich Sensor Systems digital air data computer
SF C1 / C3 / C3a Hercules had secure radio fitments, including satellite communications. The precise nature of these fitments remains classified at this time.
The RAF Special Forces Flight used a number of Hercules variants. The C1 was based on the C-130K, a development of the United States C-130E which added different engines, British communications and navigation systems and a new cargo floor design.
A number of 47 Sqn aircraft were fitted with a suite of sensor systems as part of a Enhanced Vision System upgrade:
SIGMA Thermal Imaging system
(in a Titan 385 turret under the aircraft's nose)
Low Light Level Television (LLLTV) camera
(in a fixed array above the nose)
These sensor packages allowed the SF Hercules to better operate at night and in poor weather conditions.
The C3 was a 'stretched' C-130K, with an additional 15ft of fuselage. This allowed for an additional 26 parachutists or 2 cargo pallets to be carried.
Following the 9/11 attacks of 2001, 6 Hercules C3 aircraft were upgraded to C3a standard, with improved communications, navigation systems and countermeasures.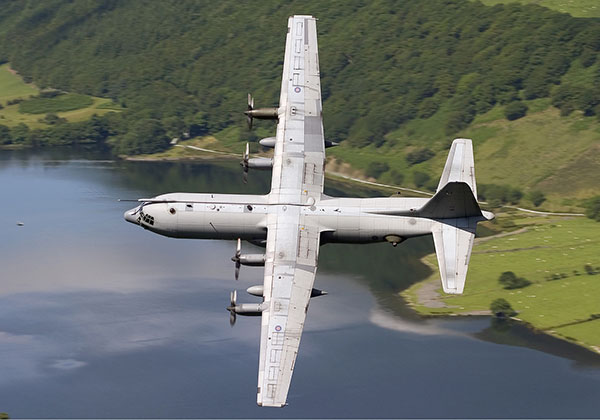 Additional flight deck armour was later added to SF Hercules to protect the crew from ground fire.
Up to 4 heavily armed SAS Land Rover 110s could be carried in the cargo hold of a SF Hercules. SAS/SBS troops could also be parachuted from Hercules flying at high altitude (HALO & HAHO), whilst SBS teams could be dropped out to sea, along with their rigid inflatable boats (RIBs).
Related video:
C1 Hercules Specifications
Crew
Five (pilot, co-pilot, 1 navigator, flight engineer and loadmaster)
Cargo capacity
64 parachutists (C1) 90 parachutists (C3/C3a)
5 freight pallets (C1)
7 freight pallets (C3/C3a)
Maximum speed
602 kph
Range
2,047 nm (3,791km) fully payload; 4,522 nm (8,375km) empty
Max takeoff weight
70.5 tonnes (C1)
72.5 tonnes (C3/C3a)
Defences
DASS defensive aids sub-system
Armament
none
47 Squadron operated the final few C-130K models in RAF service until they were eventually retired in 2013. The squadron now uses a number of C-30J Hercules C4 and C5 aircraft in the special operations role.