Army Bomb Disposal / EOD
The British Army's 29 EOD and Search Group carries out Explosive Ordinance Disposal (EOD) and advanced search operations in the UK and around the world. This elite group of bomb disposal experts protect the UK domestic population and troops deployed overseas by detecting and disposing of mines, unexploded ammunition and improvised explosive devices (IEDs).
29 EOD and Search Group includes
11 EOD Regiment, Royal Logistic Corp (RLC)
33 EOD and Search Regiment, the Royal Engineers (RE)
101 (City of London) Engineer Regiment (EOD), RE
1 Military Working Dogs Regiment
11 Explosive Ordnance Disposal Regiment
11 EOD Regiment is a Royal Logistic Corps (RLC) regiment that is based in various locations around the U.K. Their role includes providing counter terrorist EOD support to civilian authorities.The regiment also deploys elements on overseas deployments such as to Afghanistan.
421 Headquarters Squadron
321 EOD Squadron RLC
521 EOD Squadron RLC
621 EOD Squadron RLC
721 EOD Squadron RLC
Squadrons are made up of several Troops. 11 EOD Regiment Troops are commanded by an Ammunition Technical Officer ATO) with rank of Captain. Under him are 5-6 Ammunition Technicians (AT). The troop also includes a number of Drivers and Supply Specialists.
33 Engineer Regiment
This Royal Engineers Regiment includes the following squadrons:
58 Field Squadron (EOD)
821 (EOD & Search) Squadron
49 (EOD & Search) Squadron
EOC (Explosive Ordnance Clearance) Group
217 Field Squadron (EOD) (reserves)
350 Field Squadron (EOD) (reserves)
Wimbish Support Unit
821 (EOD & Search) Squadron provides support to UKSF, the Royal Marines and Paras.
Alpha Troop provides support to the Special Forces. (more info below)

2 Commando Troops, staffed by Commando-trained soldiers, support 3 Commando Brigade.

2 Air Assault Troops, with Para trained personnel, support 16 Air Assault Brigade.
In April 2013, 821 (EOD & Search) Sqn transferred from 11 EOD Rgt to 33 EOD Rgt.
101 (City of London) Engineer Regiment (EOD)
101 Eng Rgt (EOD) is a combined regular / reserves regiment. It has provided EOD support to operations in Iraq, Afghanistan and to the secuirty operation for the 2012 Olympics. The regiment comprises:
22 Headquarters & Support Squadron (EOD)
17 Field Squadron (EOD)
21 Field Squadron (EOD)
221 Field Squadron (EOD) (reserves)
579 Field Squadron (EOD) (reserves)
22 HQ & Support Squadron (EOD)'s operation role is to provide support to the United Kingdom Technical Response Force (UKTRF) which has teams on standby to counter any chemical, nuclear, biological or radiological (CBRN) threats on the UK mainland.
UKSF EOD Support
There are references online to an Alpha Troop within 821 (EOD) Squadron, 33 EOD Rgt providing EOD support, including Assault Improvised Explosive Device Disposal (AIEDD) support, to United Kingdom Special Forces (UKSF). They also provide support to police tactical firearms units.
AIEDD is a specialised form of EOD that is designed to be carried out during counter terrorism (CT) operations. The focus of AIEDD operations is on speed, keeping the assault momentum going by quickly assessing and clearing (marking or disarming) any explosive threats to the assault force or hostages. This may include dealing with explosive devices placed on hostages, terrorist suicide vests, booby-trapped access points etc.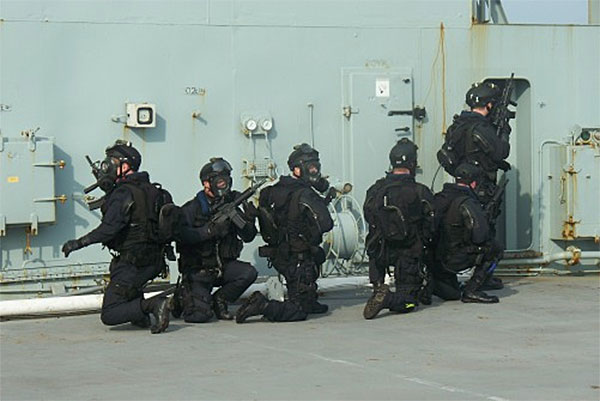 image:unspecified MoD photographer | Ministry Of Defence Crown Copyright 2013
An example of the type of UKSF Counter Terrorist (CT) mission that EOD may be called on to support was the 2001 storming of the MV Nisha cargo vessel. Believed, in error it turned out, to be carrying a chemical, biological or radiological bomb, the MV Nisha was intercepted off the UK coast by a SBS/SAS task force. Each UKSF fire team had an EOD specialist attached to deal with any IEDs found aboard the ship.
The MV Nisha, however, would not have been the first time that an EOD specialist has carried out a Maritime Counter Terrorim (MCT) mission. In May 1972, 2 Special Boat Squadron (as the SBS was then) Marines, a soldier from 22 SAS and a Royal Army Ordnance Corps bomb disposal expert parachuted into the Atantic and boarded the QE2 in response to a bomb threat made against the liner and its passengers. The bomb disposal expert had never made a military jump before. The Special Forces soldiers had to be give him a rapid course of instruction in parachuting into the water while flying towards the jump point. The bomb displosal expert survived the jump, and no bombs were found on the liner. The incident, however, highlighted the need for bomb disposal operatives with sufficient training to operate in the maritime domain.
Royal Navy Mine Clearance Divers from Fleet Diving Unit 1 (FDU1) also provide EOD support to UKSF MCT operations.