Focus On Maritime Counter Terrorism
23.11.2015
When one thinks of terrorist attacks, it is typically in the form of bombings or attacks by gunmen against civilian targets in major cities or attacks against airliners. Security agencies, as a recent Daily Mirror report points out, are also concerned with an attack coming from the sea.[1]
The Mirror quotes an intelligence source as saying:
"A dirty bomb would be one of the worst imaginable scenarios and getting a big one in could be done by bringing it in on a ship.

Many European sea ports have relatively weak security and a ship could be seized so this is one of the scenarios being planned for.

Our ports are a little under the radar and everyone talks about how hard it is to get weapons into Britain, but perhaps not by ship.
Being an island, Britain is especially vulnerable to such an attack. Large merchant vessels regularly sail up the Thames river into the heart of London, any one of which could be carrying a WMD or even gunmen. Ports at Southampton, Harwich and Tilbury may be vulnerable to a seaborne assault. Terror attacks on passenger ships such as cross-channel ferries are another concern.
Note: The Mirror report frames their article by way of an exercise held in April this year on the Firth of Clyde in which 43 Commando's Fleet Contingency Troop (FCT) boarded a passenger ferry.[2] The report tries to link this drill to fears over ISIS attacks on UK shipping, although there is no reason to think it wasn't just a routine exercise. The FCT are an elite element of S Squadron, 43 Commando. They specialise in maritime security operations, including non-compliant boardings a role which includes retaking pirated ships with hostages present.
Although units such as the FCT may play a supporting role in a domestic Maritime Counter Terrorism (MCT) response, that response would, in most cases, be led by the Special Forces.
Maritime Counter Terrorism History
Over the years, Britain has developed a robust Maritime Counter Terrorism capability. The UK began developing its MCT forces in the 1970s in response to increasing incidents of terrorism in Europe and the Middle East.
In 1971 2 SBS members, along with a 22nd Special Air Service (22 SAS) NCO and an EOD specialist, were parachuted into the Atlantic in response to a bomb threat on the QE2 passenger liner (which turned out to be a hoax). Later, in 1973, also on the QE2, plainclothes SBS operatives mingled with passengers during a cruise thought to be at risk of attack.
From 1975 on, 1 SBS, a section of the Special Boat Squadron, as it was then titled, was assigned to the MCT role.
Of primary concern to security planners in the mid-70s was the protection of the newly established North Sea oil platforms. Not just of economic importance, but symbols of British power, these installations were deemed at risk of attacks by various terrorist groups, including the IRA and PLO. In 1980 Commachio Company, Royal Marines were tasked with OILSAFE operations - i.e. protecting the North Sea oil industry. As part of OILSAFE, 5 SBS was permanently stationed at Commachio Company's base at RM Condor near Arbroath, Scotland. 1 SBS would therefore concentrate on protecting shipping and ports.
In 1983 Commachio Company, which also protected Britain's nuclear weapons and missile submarines, increased in size and became Commachio Group. Commachio Group's manpower was split into 2 companies, P and 0, with P tasked with nuclear security and O Company assigned to OILSAFE.
As part of a reorganisation of United Kingdom Special Forces (UKSF) in 1987, the SBS expanded in size and role to become the Special Boat Service. It established a dedicated MCT squadron, M Squadron - formed from 1 and 5 SBS - and took over the MCT responsibility from Commachio Group. Commachio Group became the Fleet Protection Group (FPG) in 2001. They were renamed again in 2012 to 43 Commando.
note: it's thought that the MCT role is now rotated through different SBS squadrons, in a similar manner to how 22 SAS rotates squadrons into the Special Projects Team.
UK Maritime Terrorism Response
A maritime terrorist incident in UK waters would be dealt with by the Maritime Counter-Terrorism Force. The precise make up of this force is, understandably not in the public domain, however it is likely to be based around a core component of at least one SBS squadron. SBS MCT operators can deploy onto a maritime objective via helicopter, small boat and mini-submarines.
Extra man power may be provided by elements of 22 SAS, Special Forces Support Group (SFSG) or 43 Commando. Assault Improvised Explosive Device Disposal (AIEDD) specialists from Fleet Diving Unit 2 may be deployed to counter IEDs or other explosives threats. Specialists in Chemical Biological Radiological and Nuclear hazards may also be called in. Signallers from SBS Signals Squadron will provide communications support. M15 may provide intelligence support as may SIGINT specialists from 18 (UKSF) Signal Regiment.
Aviation support may draw on Mk4 Sea Kings from MCT flight, 848 Squadron of the Commando Helicopter Force (CHF) based at HMS Heron (RNAS Yeovilton) in Somerset and/or MCT Flight, 771 NAS out of RNAS Culdrose, Cornwall. Lynx Mk8 helicopters from 815 NAS with SBS snipers onboard may be on hand to provide top cover. Chinooks from 7 Squadron RAF are also trained for MCT support.
related video:
Rigid inflatable boats (RIBs) driven by Royal Marines coxswains may be used to deliver MCT boarding teams. These may be launched from Royal Navy warships or dropped onto the water by parachute from RAF C-130 aircraft (47 Squadron).
note: 771 NAS is due to be decommissioned at the end of 2015. The CHF's Sea Kings, which are currently dedicated to MCT, will be taken out of service in late March 2016 when 848 Squadron is decommissioned. 846 NAS will then fly the MCT mission in Merlin Mk3s.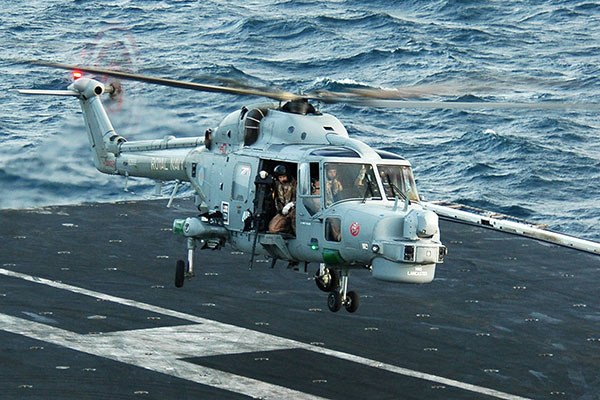 US DoD Photo by: Mass Communication Specialist Seaman Class Nichelle Noelle Whitfield
An example of the UK MCT apparatus swinging into action took place in December 2001. The MV Nisha, a merchant vessel en route to a dock in London was intercepted by British special forces in waters off the English coast. Intelligence sources indicated that terrorists may be on board, along with a WMD. A force of SAS and SBS troops were flown by Chinook and Sea King helicopters to an interception point in the English Channel. They were joined by RIBs carrying more SBS/SAS troops, launched from a Royal Navy frigate. As the troops fast-roped from helicopters and climbed up from RIBs onto the MV Nisha, Lynx helicopters circled overhead, carrying snipers. [3]
In the end, it turned out that the intel was faulty and the MV Nisha was just carrying its scheduled load of sugar and an innocent crew. The incident did, however, indicate that the UK is ready and willing to protect its shores.
The ability for the UK's security forces to deal with a maritime threat should be boosted by the planned introduction of a fleet of P8 maritime patrol aircraft, announced today. [4]
The P-8 procurement fills a gap left when the Nimrod MR2 and its planned replacement, the MR4, were scrapped in the early part of this decade.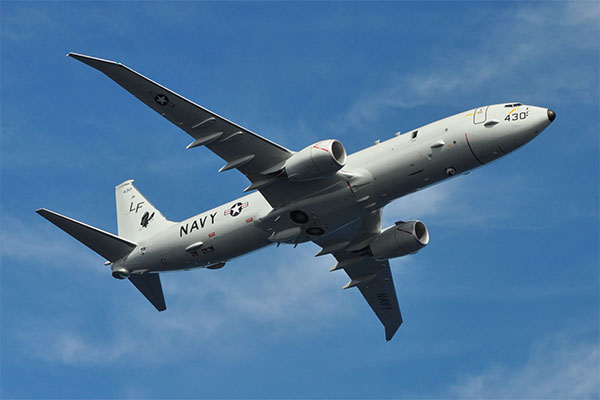 U.S Navy photo by Personnel Specialist 1st Class Anthony Petry/Released
More info / further reading