Merlin Helicopter
The Merlin Mk3, Mk3a, iMk3 and Mk4 are medium-lift helicopters operated by the Commando Helicopter Force (CHF)
The Merlin is designed and manufactured by AgustaWestland, who designate it as the AW101. The Royal Navy operates a fleet of Merlin Mk2 helicopters in the maritime force protection and anti-submarine warfare (ASW) role. The Commando Helicopter Force, however, use their Merlins as an amphibious troop transport and utility helicopter.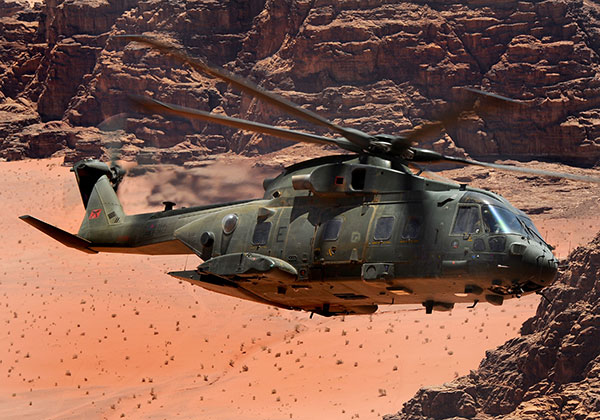 CHF Merlin Design Features
Unlike the Mk1 and Mk2 ASW variants, the Merlins flown by the Commando Helicopter Force feature a rear ramp for the rapid loading and off-loading of troops. The Merlin can accommodate up to 24 fully-laden troops.
The Merlin is powered by 3 Rolls-Royce/Turbomeca RTM322 engines that power a main rotor assembly that consists of 5 BERP (British Experimental Rotor Programme) IV blades.
The Merlin features a night vision goggle (NVG) compatible 'glass cockpit' which displays navigation, aircraft systems, sensors and other data on 6 digital screens.
Flight control systems include Full Authority Digital Electronic Control (FADEC) and Active Control of Structural Response (ACSR) anti-vibration system. Navigation systems include laser-gyro, inertial-navigation platform, doppler and GPS. Some Merlins have an infrared sensor in a chin-mounted turret.
The Merlins have an advanced defensive aids suite (DAS) that consists of a laser warning system (LWS), missile approach warning system (MAWS), radar warning receiver (RWR), Nemesis AN/AAQ-24 DIRCM (Directional Infrared Counter Measures) jammer and ALE-47 Airborne Countermeasures Dispenser System (flares and chaff).
Maximum internal payload for the Merlin is 5,433kg. The helicopter can carry up to 4536kg as an underslung load. Max range is 927km. External tanks bump the max range up to 1,300km. Top speed is 167kts and max altitude is 15,000ft.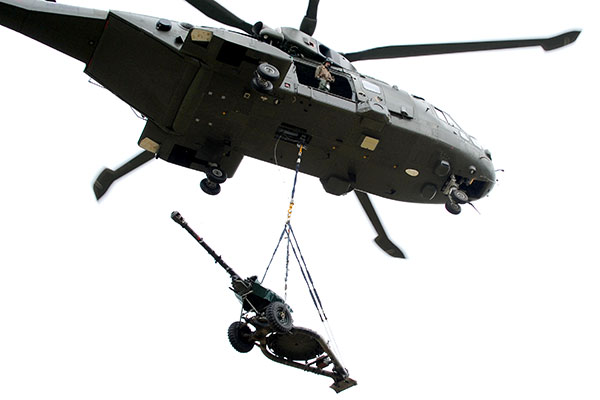 The Merlin is crewed by 2 pilots and 2 aircrewmen. The pilot's seating is armoured against small arms fire. General Purpose Machine Guns (GPMGs) can be mounted at various stations around the aircraft, including at the rear ramp and side window apertures.
Commando Helicopter Force Merlins
The Merlin has been brought in to replace the CHF's fleet of Sea King Mk4s that are slated for decommission by March 2016. The RAF CHF began transferring its Merlin Mk3/Mk3A helicopters to the CHF in 2012. Official transfer of command of the UK Merlin Mk3.Mk3A fleet occured in September 2014.
A Merlin Life Sustainment Programme (MLSP) is underway to upgrade the Mk3/3A helos to Mk4/4A 'Commando Merlin' standard. This navalises the aircraft, enhancing its amphibious capability. Improvements include automated fold of the main rotor blades and tail boom. Avionics upgrades include a fully digital glass cockpit of the standard found in the Merlin Mk2 and Wildcat AH1, and provision for a tactical computer. There is also a provision for fitting a FLIR Systems Star SAFIRE III electrooptical system to the Mk4/4A. The Commando Merlin features a DAS Controller that integrates with existing DAS elements to rapidly identify and respond to threats.
The MLSP delivered the first Merlin Mk4 in September 2017 and will eventually produce 25 Mk4/4A Commando Merlins for the CHF.
To fill the gap between the Sea Kings retiring and the new Merlins coming online, 7 Merlins have been converted to iMk3 - 'i' for interim - standard, to allow them to embark on ships. The iMk3 features manually folding main rotor blades, deck lashing points, fast-rope fixtures, upgraded undercarriage and an I-band transponder. The interim Merlins came into service just as 848 NAS disbanded and the last CHF Sea Kings were decommissioned. At that point, 846 NAS took on the Maritime Counter Terrorism (MCT) commitment from 848 NAS.
In August 2018, Merlin Mk4s began embarking on HMS Queen Elizabeth, the Royal Navy's new aircraft carrier. Along with Wildcat AH1 helicopters from 847 NAS, they will form the Specialist Commando Aviation task force. The CHF Merlins aboard the Queen Elizabeth will have a number of roles, including amphibious assault, joint personnel recovery, and the movement of stores and personnel.