SAS - Basra Rescue
On the 19th of September, 2005, 2 SAS soldiers were on a surveillance operation, in a unmarked car, close to Jamiyat Police station in Basra. The SAS had been tasked with investigating claims that the Iraqi Police had been torturing prisoners in the station. A particular senior Police officer was suspected and it was he who the 2-man SAS team were watching. (note: some sources indicate that the surveillance operation was actually carried out by members of the Special Reconnaissance Regiment (SRR))
Just before the team were about to end the surveillance mission, they were confronted by several plains-clothes Iraqi policemen. A gunfight ensued during which at least one Iraqi policeman was wounded. The SAS men tried to reach an emergency rendezvous point (ERV) but were stopped by uniformed Police who were investigating the gunfire. The SAS chose to surrender at this point. They identified themselves as British military and they were taken into custody.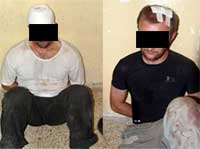 It was reported that the 2 soldiers were disguised as Arabs and that weapons and communications gear was found in their car. Pictures released to the media showed C8 CQB carbines, a mini PARA, a LAW rocket launcher, radios and medical kit. These items causes some to speculate the SAS were really on a sabotage mission, posing as terrorists and acting as agent provocateurs. Some even went as far as to suggest that their mission was to plant bombs in order to create a 'false-flag' terrorist attack. Others claim the weapons and gear are simply the standard kit carried on UKSF operationsin Iraq, and are designed to cover a range of possible eventualities.
The 2 soldiers were taken to Jamait Police station. This was a concern for the British military as it was suspected that the local police had been infiltrated by various militia elements. An attempt to negotiate the men's release had failed and when the British became aware that the 2 captured soldiers had been moved to a nearby house and were soon to be handed over to the militia, a rescue plan was put into place.
As British Warrior APCs surrounded the Police station, an angry crowd attacked them with Molotov cocktails, setting at least one APC alight. The APCs eventually smashed through the walls of the Police compound resulting in the escape of several prisoners.
With events around the station acting as a diversion, an SAS team stormed the house where their colleagues were being held. It was later reported that no Iraqis had been injured during the SAS operation although several had been killed or injured during the Warrior assault on the Police station.
**update** A May 1st, 2009 newspaper article features an interview with one of the 2 SAS men captured in 2005. In the article, the SAS man explains that the circumstances of his capture. He reveals that he and his fellow SAS operator had been returning from escorting 2 MI6 operatives to the Kuwaiti border when their car broke down in the desert. The pair hijacked a taxi and drove to Basra where they ran into a Police checkpoint where they were arrested. (see link below for full story)

related link:
SAS hero was rescued as he was about to be shot
(the Scotsman)
** further update ** A May 6th, 2010 Daily Mail article reported that the rescue operation was counter to Ministry Of Defence (MoD) orders.


related link:
SAS defied MoD to rescue two of its men held hostage in Iraq as top commanders 'prepared to quit' over ban on mission
(the Daily Mail)