Wildcat HMA2
The Wildcat HMA2 is a naval variant of the Agusta Westland AW159 helicopter. The aircraft type is operated by the Royal Navy's Fleet Air Arm, specifically Naval Air Squadrons (NAS) 815 and 825, both based out of Yeovilton.
The Royal Navy deploys the Wildcat to frigates and destroyers where it operates in the maritime attack role. This role includes anti-surface warfare, anti-submarine warfare, counter-piracy and force protection.
815 Squadron's Maritime Interdiction Flight uses the Wildcat HMA2 for counter-piracy, counter-smuggling and maritime counter-terrorism (MCT) operations.
The Wildcat HMA2 is an evolution of the Lynx design. It features the upgraded engines (2 x Light Helicopter Turbine Engine Company (LHTEC) CTS800-4N) found in the Lynx AH9A along with a more robust fuselage and cutting-edge avionics and sensor systems.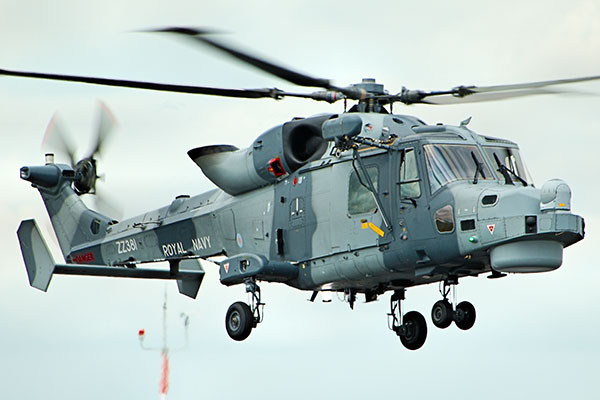 Note the Commando Helicopter Force (CHF) and Army Air Corps (AAC) fly the AH1 variant in the battlefield reconnaissance and light utility role. The main differences between the two types are in sensors and armaments. The AH1 does not have the Seaspray radar system nor is it armed with torpedoes (these items can be added / removed as necessary via a role fit to convert between the two types). It may be argued that the naval variant is a better fit for its role as it was designed for that purpose. As with the Lynx before it, the land variant of the Wildcat is something of a compromise; taking a naval platform and converting it for the battlefield in order to save money rather than procure a dedicated design.
Wildcat HMA2 Specifications
Crew
3 (pilot, co-pilot & door gunner)
Troop capacity
crashworthy seats for 6 troops
Maximum speed
157 knots
Range
420 nm
Max takeoff weight
6000 kg
Armament
1 x .50 cal HMG
Sting Ray torpedoes
Future anti-Surface Guided Weapon Missiles (Light & Heavy)