UK Police Armed Response Units
Armed response units / firearms units are teams of armed Police Officers tasked with countering crimes committed by armed criminals. Each UK constabulary / force has some form of firearms team.
One of the nation's most prominent firearms units is the London Metropolitan Police Service's SCO19.
Designation, organisation and equipment used by firearms units varies as each constabulary has its own budget, set by its Police Commissioner. Depending on constabulary, Police firearms units may be called the Tactical Firearms Unit, Firearms Support Unit, Specialist Armed Response Unit or Tactical Aid Group, among other names.
Authorised Firearms Officers (AFO)
AFO is the basic designation for a British police officer who has been trained in the use of firearms and has been authorised to carry them on duty. Level of training varies depending on role. Some AFOs may only be given a basic level of firearms training, i.e. core weapons skills, mostly defensive attacks. This is usually focused on the use of whichever model of self-loading pistol - e.g. Glock 17 - is their unit's standard. Police officers in units such as the Met's flying squad, for example, typically only carry a pistol.
The types of role that an AFO may perform include Armed Response Vehicle (ARV) Officers, Specialist Firearms Officer (SFO), Close Protection Officer (CPO), Personal Protection Officer and Tactical Support Officer.
There are two classifications of incident that an AFO may be brought in to deal with: spontaneous i.e. armed officers are called to the scene of an incident as it occurs / has just occurred, and authorised i.e. a pre-planned operation.
Armed Response Vehicles
ARV Officers respond to spontaneous firearms incidents. They typically carry out mobile patrols in vehicles such as the BMW X5, poised to deploy to an incident as needed. ARV AFOs will typically always have a self-loading pistol, such as the Glock 17, on their person. They will also have access to 'long arms', such as the H&K MP5SF and H&K G36C carbines, which are stored securely in the vehicle. Training includes advanced driving, performing stop and search of suspect vehicles and containment of a vehicle or building.
ARV Training
ARV Officer training includes:
Specialist unarmed close quarter combat
Advanced Firearms
ARV Interception tactics
Advanced Driving Course
Tactical Pursuit Driving
First Aid Training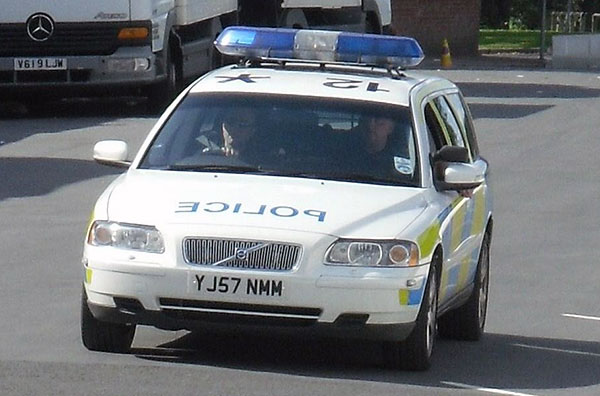 Specialised Firearms Officers (SFO)
SFOs carry out pre-planned, intelligence-led, authorised operations against criminals suspected of being in possession of firearms. They are trained in dynamic entry ie use of battering rams and other tools to make entry into a building. They may also train in the use of stun grenades and tear gas. The SFO role requires a higher level of training than ARV Officers receive. SFOs will typically have served in the ARV role for several years before joining a SFO team.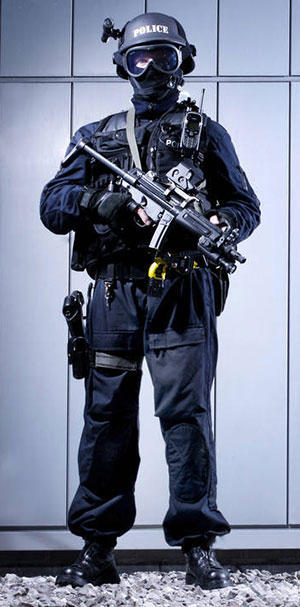 Photo - a member of a West Midlands Police armed response team dressed in the sort of tactical gear common to such units.

Clothing includes overalls - usually manufactured from a fire-retardant material such as NOMEX, boots and gloves. Headwear is typically a kevlar helmet such as a MICH 2000 over a NOMEX balaclava, headset/ear defenders linked to a secure radio, and eye protection in the form of goggles. Body armour may be worn, including a kevlar vest / plate carrier holding ballistic armour.

Kit carried includes handcuffs, first aid kit, secure radio, ammo pouches (main gun and pistol), stun grenades, CS tear gas grenades. Tools for making dynamic entry such as crowbars and sledgehammers may be carried.
Aside from a primary and secondary weapon, a taser and pepper spray may be carried. Ballistic shields may be carried by the point man in a team.


Specialist Firearms Officer Training
SFO training includes:
Advanced Firearms
Specialist unarmed close quarter combat
SFO Interception tactics
Abseil / Fast rope access
SFO Intervention tactics (Hostage rescue)
SFO team medic (Enhanced First Aid Training)
Counter terrorist tactics
Advanced Driving Course
Tactical Pursuit Driving
High risk close protection
Photography
Counter Terrorist Specialist Firearms Officers
Certain Police forces maintain a cadre of officers trained for counter terrorism operations, These are designated as Counter Terrorist Specialist Firearms Officers (CTSFO). The Met's SCO19, for example, fields a significant number of CTSFO teams, Greater Manchester Police (GMP) has also trained CTSFOs, as have Thames Valley Police. The various Police CTSFO units across the country form a National CTSFO network, providing a national-level counter terrorism response. Examples of nation-level CTSFO deployments include a deployment by West Midlands Police CTSFOs to London as part of Operation Pegboard, the security operation that occurred in the wake of the murder of British soldier, Lee Rigby. [2]
more info: SCO19 CTSFOs
Rifle Officers (RO)
Rifle Officers are specially-trained AFOs who deploy as a Rifle Team (Rifle/Observer Team) in support of an authorised firearms operation.
They may be armed with a 7.62mm x 51mm scoped bolt-action sniper rifle or semi-automatic rifle. They are trained to be able to make a precise shot, through glass barriers if necessary, This capability includes a simultaneous coordinated shot i.e. two Rifle Teams firing at the same time.
Despite their skills with the rifle, a Rifle/Observer Team's function is typically more about gathering intelligence than it is about pulling the trigger.
Rifle Officer Training
Training for Rifle Officers includes:
Shooting a Police Rifle in varying lighting and weather conditions to the national standard up to 300 meters
Positional shooting
Approaching and working from overt and covert observation points
Camouflage and concealment
Support to other police operations, e.g. CPO and Dynamic Intervention
Dispatching animals
Police Weapons
The most common firearms employed by British armed units are the Glock 17 9mm pistol, the Heckler and Koch (H&K) MP5SF 9mm (single fire) carbine and the H&K G36C (single fire) 5.56mm carbine.
Pistols
Glock 17 - This 9mm pistol, now also the standard UK military sidearm, is the most commonly-field police handgun
Sig Sauer P250 - 9mm pistol employed by the Cleveland Police and Essex Police
Walther P99 - carried by Nottinghamshire Police AFOs.
Sig Sauer P226 - 9mm used by Northamptonshire Police and Kent Police
M&P40 - pistol in .40S&W used by Greater Manchester Police Tactical Firearms Unit.
Sig Pro 250 - 9mm pistol used by Essex Police.
Carbines
H&K MP5SF - 9mm carbine, single-fire version.
H&K G36C - 5.56mm semi-automatic carbine. The G36C-SF and the MP5SF are the most commonly carried armed response unit carbines.
H&K G36K - big brother of the G36C. Used by North Yorkshire Police Firearms Support Unit (FSU)
Sig 552 Commando - short-barrelled 5.56mm carbine used by Derbyshire Police
LMT Defender - AR-15 clone carried by AFOs in the combined Cheshire / North Wales area. The Defender is also carried by British Transport Police (BTP) on patrols of railway stations and by their armed response unit.
H&K HK53 - 5.56mm semi-auto carbine used by Cumbria Police and Glasgow Police.
H&K HK416C - Hampshire Constabulary & Thames Valley Police Tactical Firearms Department
Sig SG516 - 5.56mm carbine used by SCO19 Tactical Support Teams and CTSFOs.
Sniper / Marksman Rifles
Tikka T3 Rifle Bolt Action Rifle - Used by Essex Police, Northumbria Police
H&K 417 - semi-automatic 7.62mm x 51mm rifle - Used by Essex Police
Blaser 93 - German-made bolt-action rifle used by Avon & Somerset Police.
Shotguns
Remington 870 - 12-gauge pump action
Benelli M1- semi-auto 12-gauge
Benelli Nova/Super Nova - used by Essex Police
Less-than-Lethal Weapons
H&K L104A12 37mm launcher, a 'riot gun' that fires an Attenuating Energy Projectile (AEP), otherwise known as a 'plastic bullet'. Fitted with L18A1/2 sight.
X25 Taser - fires high voltage wires attached to darts in order to incapacitate the suspect.