SAS Weapons - Handguns
An SAS trooper will nearly always carry a handgun whilst on operations, either as a backup secondary weapon, or as primary weapon during undercover missions.
Sig Sauer P226 / P228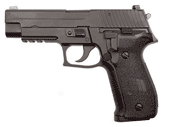 Made by Sig Arms of Switzerland, the Sig Sauer P226 and the compact P228 is a popular handgun in service with many militaries and law enforcement agencies.
read more on the : Sig Sauer P226
Glock 17 / 19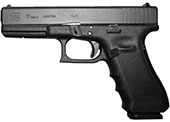 The Glock 17 is now the British military's standard sidearm, replacing the venerable Browning High Power. The SAS, and other British Special Forces, use the Glock 17 and the compact Glock 19.
read more on the : Glock 17 / 19 Pistol
---
Vintage Handguns
These pistols graced the SAS armouries for many years before being replaced by more modern handguns.
Browning High Power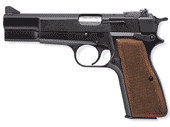 In service in the Regiment for over 40 years, the Browning HP is a reliable and accurate 9mm handgun.

read more on the : Browning High Power
Sig Sauer P230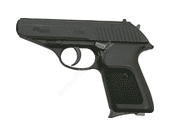 Sometimes a full-sized pistol is undesirable. In such circumstances, the compact Sig Sauer P230 is ideal. The P230 is small enough to be concealed beneath civilian clothing without leaving a tell-tale bulge, however its small size means its magazine capacity is only 7 .380 ACP rounds.