SAS Weapons - M203 Grenade Launcher
When fitted beneath the M16 assault rifle, the M203 grenade launcher gave the standard 4-man SAS patrol a welcome boost in firepower. It would be standard operating procedure (SOP) for the point man in a foot patrol to have a round up the spout of his M203, ready to fire it in the general direction of a contact when bumped.
The M203 fires 40mm high explosive, smoke, illumination or CS gas rounds and can be effective up to 350 meters range.
Aside from M16s, M203s can also be fitted to the C7 / C7A1, Colt Commandos and C8 SFW carbines, the Regiment's standard assault carbine, although most C8s are likely to be fitted with the UGL. M203s have been carried by SAS personnel in many actions from the Falklands Conflict in 1982 to Desert Storm in 1991.
Other elite UK units that have used the m203 include: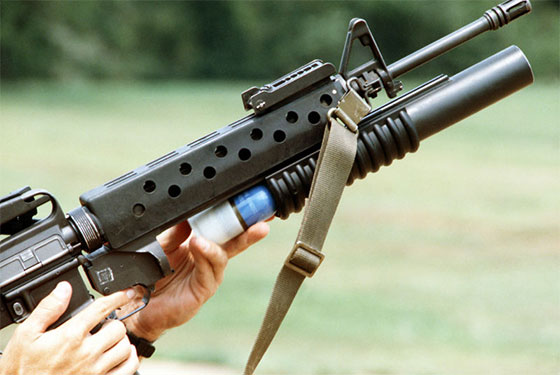 When loading the M203, the barrel slides forward and the rounds are fed in from behind before the barrel is slid back, ready to fire.
US Army photo by STAFF SERGEANT JOHN K. MCDOWELL