Mobility Troop - Bushmaster IMV
Several sources have indicated that the Ministry of Defence (MoD) have, in May 2008, procured 24 Bushmaster Infantry Mobility Vehicles (IMVs) for use with United Kingdom Special Forces (UKSF) , specifically the 22nd Special Air Service (22 SAS).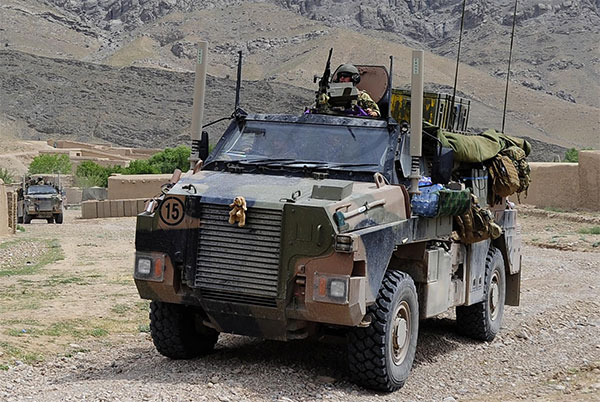 photo by ISAF Media | public domain
The Australian-built Bushmaster IMV is a fully enclosed and armoured troop carrier, specifically designed to protect against IEDs and mines. It is a stark contrast to the open design of the Landrover DPV or the more recently deployed Supacat HTM 400 vehicles. It is believed that the Bushmasters were initially earmarked for use by the SAS operating in Iraq. The SAS's role in Iraq was significantly different from the more traditional long range patrols to which the DPV and HMT 400s are more suited. Often working in urban areas, the SAS required an enclosed armoured vehicle to move around in. The Bushmaster's deployment has increased the SAS's interoperability with American forces, who operate similar armoured vehicles. UKSF Bushmasters were later deployed in the fight against ISIS in Iraq and Syria.
The IMV's V-shaped hull is designed to deflect the blast of an explosion away from the crew and passenger compartments, greatly increasing their chance of surviving an IED or mine strike. The vehicle's armour protects against shrapnel and can withstand small arms fire up to and including 7.62mm ball. The armoured glass windscreen offers similar levels of protection.
The Bushmaster can accommodate a driver and up to 9 soldiers with provisions for air conditioning, cool drinking water system, personal weapons storage and a communications station. 4 Lockable roof hatches serve as potential firing ports and emergency escape routes.
Gun mounts on 1 front and 2 rear hatches allow for the mounting of light and medium machine guns such as GPMGs as well as 40mm HK GMG grenade launchers or HMGs. UKSF variants of the Bushmaster - known as 'Escapade' - feature a remote weapon system (RWS) which allows for a HMG/GMG to be operated from inside the vehicle. UKSF Escapades are up-armoured, are fitted with bull bars for breaching barricades and wire cutters to protect 'turned out' personnel standing in the hatches, and anti-IED electronic countermeasures.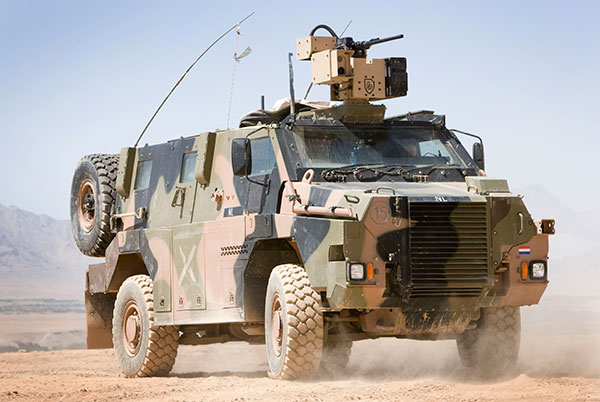 photo by dutch MoD | public domain
The Bushmaster can be transported into theatre in RAF C130 Hercules, A400M, or C17 cargo planes.
UKSF Bushmaster Video
Bushmaster IMV Specifications
Engine
Caterpillar 3126E engine
330 hp (246 kW)

Maximum speed
100 kph+ on mettled road
Range
800 km
Suspension
4x4 double wishbone independent
Weight
12.4 tonnes
Dimensions
7.18m (length)
2.48m (width)
2.65m (height)
Capacity
1 crew + 9 passengers
Armaments:
1 x forward gun ring hatch mounts for GPMG / LMG
2 x rear hatch mounts for LMG
Remote Weapons System (RWS) mount for HMG, GMG
Related Items
---