Lynx AH7 Helicopter
The Lynx AH7 attack/utility helicopter was operated by the Army Air Corps (AAC), including 657 Squadron AAC of the Joint Special Forces Aviation Wing (JSFAW). It was also used by 647 Naval Air Squadron of the Royal Navy's Commando Helicopter Force (CHF).
The type was eventually replaced in CHF and AAC by the Lynx Mk9 and, later, by the Wildcat AH1.
Lynx AH7s were fitted with a suite of defensive countermeasures consisting of:
AN/ALQ-144 Infrared Jammer
BAE AWARE-3 ARI 23491 radar warning receiver
Sky Guardian mk15 electronic warfare system
M130 chaff/flare dispenser.
Other avionics included :
AN/ARN-118 Tactical Air Navigation system (TACAN)
BAE Systems mk 34 automatic flight control system
BAE Systems automatic stabilizer
Racal Doppler 91
'Elmer' secure speech radio
Mode 'C' identification friend or foe system
Note: the AH7s flown by 657 AAC had non-standard communications fitments, details of which remain classified.
In the attack configuration, the Lynx AH7 was armed with 8 FITOW (further Improved TOW) wire-guided missiles on 2x4-tube racks on hardpoints attached to the fuselage. The FITOW is a wire-guided anti-tank missile with a dual warhead and a top-down attack capability. The Raytheon TOW sight can also be used for reconnaissance operations.
When configured for the utlity role, the Lynx AH7 could carry up to 6 fully-equipped troops. In conventional warfare scenarious, the Lynx was often used to transport small anti-tank missile teams around the battlefield. A GPMG door gun was often mounted in one of the helicopter's cabin doors. 2 could be fitted, although doing so left little room for carrying stores or troops. 657 Sqn AAC Lynx helicopters were typically armed with 7.62mm Miniguns.
The Lynx AH7 could carry 1350kg of underslung external stores.
2 Lynx helicopters could be transported in the hold of 1 C-130J Hercules. In the build up to Operation Barras, in which 657 AAC participated, 2 of their Lynx AH7 helicopters were airlifted into Sierra Leone by a RAF Hercules.
Lynx AH7 Specifications
Crew
3 (pilot, co-pilot & door gunner)
Cargo capacity
9 troops
Maximum speed
160 knots
Range
280 nm
Max takeoff weight
4875 kg
Armament
1x 7.62mm GPMG
or 1x 7.62mm Minigun
or 8x TOW anti-tank missiles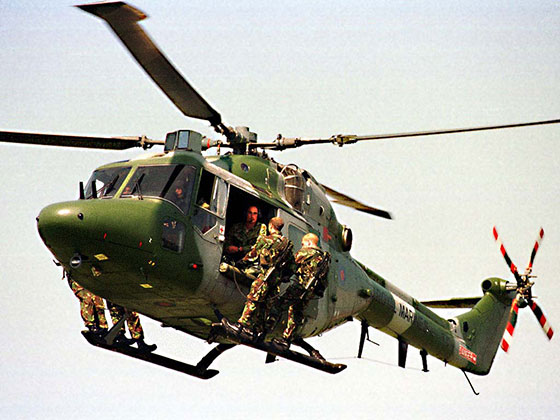 photo credit : US DoD
Related Links: